Welcome to our stop for Red: The True Story of Red Riding Hood by Liesl Shurtliff! We are so excited to share this gem with you all.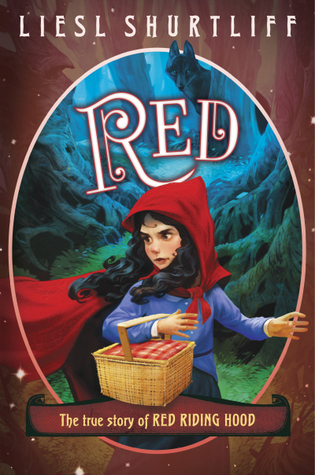 Red: The True Story of Red Riding Hood
Author: Liesl Shurtliff
Publication Date: April 12, 2016
Publisher: Knopf Books for Young Readers
Pages: 288
Format: ARC Paperback
Source: Publisher
Age Group: Middle Grade
Genre: Fantasy Fairytale Retellings
"Red is the most wonder-filled fairy tale of them all!"—Chris Grabenstein, New York Times Bestselling author of Escape from Mr. Lemoncello's Library.

Red is not afraid of the big bad wolf. She's not afraid of anything . . . except magic.

But when Red's granny falls ill, it seems that only magic can save her, and fearless Red is forced to confront her one weakness.

With the help of a blond, porridge-sampling nuisance called Goldie, Red goes on a quest to cure Granny. Her journey takes her through dwarves' caverns to a haunted well and a beast's castle. All the while, Red and Goldie are followed by a wolf and a huntsman—two mortal enemies who seek the girls' help to defeat each other. And one of them just might have the magical solution Red is looking for. . . .

Liesl Shurtliff weaves a spellbinding tale, shining the spotlight on a beloved character from her award-winning debut, Rump.

And don't miss Jack: The True Story of Jack and the Beanstalk, "a delightful story of family, perseverance and courage" (Booklist).
Red, the main character is a very shy girl that likes to just stay to her self and definitely has trust issues. My favorite part of the book is at the beginning because she talks about the background of magic her family has. She isn't really used to having friends and her best friend Rump is gone. Since the character is my age I can reference to her a lot. I will say that some of the words she uses are definitely not in my vocabulary. I think Red and I are very alike because we are both independent and I think that describes many girls today.
The story itself gives way more detail then the regular story. It gives insight and the point of view of Red her self. Shurtliff includes many different fairytales such as Beauty and the Beast, Goldie Locks and the Three Bears, and Snow White. Including these fairytales just makes a great influence on Reds story because it helps with understanding her friendships with the people she meets on her journey. It helps to show who her real friends are and who are her enemies. Red is very brave, determined, and loving. She goes on all of these great adventures and meets a bunch of new people just to help her grandma because she is ill. I am very much looking forward to reading the next book in this series and hopefully, it's about Goldie's point of view!

"Life itself is the most wonderful fairy-tale." – Hans Christian Anderson

I grew up in Salt Lake City, Utah the fifth of eight children. My seven siblings tortured me but I really like them now. I loved dancing, singing, playing the piano and reading books by Judy Blume, Beverly Cleary, and Roald Dahl. I also read Grimms' Fairy Tales so often I wore through the binding. Today I live with my husband and three children in Chicago, which is a wonderful city except that it is decidedly flat and very cold in the winter. When I write, I often wander back to my childhood and gather the magic that still remains. I hope to share that magic with children everywhere.

If you would like to learn a little more about me (and even see some childhood pictures!), just click HERE.