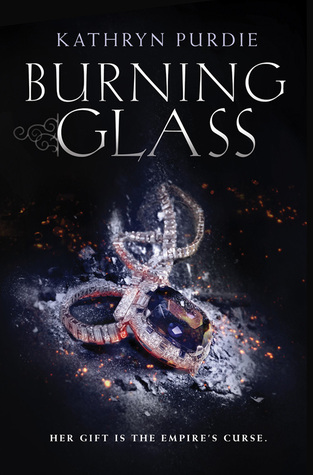 Title:
Burning Glass
Author:
Kathyrn Purdie
Publisher:
Harper Collins
Release Date:
March 1st 2016
Pages:
512
Format:
eARC
Source:
Edelweiss
Age Group:
Young Adult
Genre:
Fantasy
Sonya was born with the rare gift to feel what those around her feel—both physically and emotionally—a gift she's kept hidden from the empire for seventeen long years. After a reckless mistake wipes out all the other girls with similar abilities, Sonya is hauled off to the palace and forced to serve the emperor as his sovereign Auraseer.

Tasked with sensing the intentions of would-be assassins, Sonya is under constant pressure to protect the emperor. One mistake, one small failure, will cost her own life and the lives of the few people left in the world who still trust her.

But Sonya's power is untamed and reckless, her feelings easily usurped, and she sometimes can't decipher when other people's impulses end and her own begin. In a palace full of warring emotions and looming darkness, Sonya fears that the biggest danger to the empire may be herself.

As she struggles to wrangle her abilities, Sonya seeks refuge in her tenuous alliances with the volatile Emperor Valko and his idealistic younger brother, Anton, the crown prince. But when threats of revolution pit the two brothers against each other, Sonya must choose which brother to trust—and which to betray.

BURNING GLASS is debut author Kathryn Purdie's stunning tale of dangerous magic, heart-rending romance, and the hard-won courage it takes to let go.
Stop what you are currently doing and add Burning Glass to your to-be-read-pile or better yet buy it. You will not one to miss out on this fantasy book!
"Your unrestrained empathy will be the ruin of us all."
Sonya is an Auraseer; she can feel the emotions of people as well as animals and because of her ability she and other girls like herself are trained at a convent to one day protect the emperor from those that would mean him harm. Unfortunately for Sonya her time to step up as soverign Auraseer came by quickly and let's just say that everything that happens at court is crazy insane.
"I believe we decide our own fate. No one has the right to dictate who we are or what we become."
Throughout the story Sonya is battling with who to trust and who not to trust while at the same time making sure she didn't lose her true self. I liked that no matter what was thrown at Sonya she never let go of her belief that she was more than just an Auraseer. Sonya was a fierce-courageous character that didn't back down even when all seemed hopeless.
"Tell me about my hair." "I have never met a boy so vain."
I don't think I've ever wanted two characters to end up together and have their happily-ever-after as much as I did in Burning Glass. The tension, the bickering, the understanding was everything my heart desired. My gosh Kathryn Purdie knows how to make me suffer but oh the wait for Sonya and her fellow was worth everything.
One of the many things I loved about Burning Glass was all the emotions I felt while reading. What Kathryn did with Sonya's ability was truly fascinating, I felt as if I was Sonya. When Sonya felt as if she was losing herself I felt as if I might too. When Sonya was frustrated I was frustrated. I love that an author can make me feel so much with just her words and story.
Kathryn Purdie is my gift. Burning Glass was absolutely marvelous; I cannot express enough how much I loved it. My god the world Kathryn Purdie created was so so so intense and I have never ever felt such heart pounding emotions as I did with this book. Mark my words Burning Glass will leave you a whirlwind of ALL kinds of emotions and it's going to take you a couple days to get out of this book hangover because trust me it will happen.