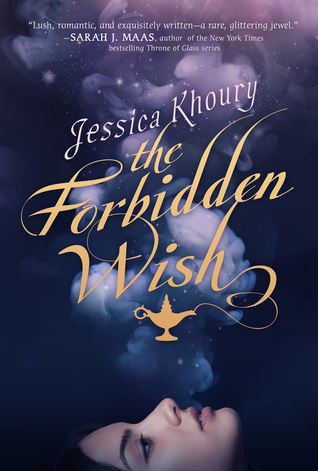 Title: The Forbidden Wish
Author: Jessica Khoury
Publisher: Razorbill
Release Date: February 23 2016
Pages: 352
Format: E-ARC
Source: Penguin's First to Read
Age Group: Young Adult
Genre: Fantasy
She is the most powerful Jinni of all. He is a boy from the streets. Their love will shake the world...

When Aladdin discovers Zahra's jinni lamp, Zahra is thrust back into a world she hasn't seen in hundreds of years -- a world where magic is forbidden and Zahra's very existence is illegal. She must disguise herself to stay alive, using ancient shape-shifting magic, until her new master has selected his three wishes.




But when the King of the Jinn offers Zahra a chance to be free of her lamp forever, she seizes the opportunity—only to discover she is falling in love with Aladdin. When saving herself means betraying him, Zahra must decide once and for all: is winning her freedom worth losing her heart?




As time unravels and her enemies close in, Zahra finds herself suspended between danger and desire in this dazzling retelling of Aladdin from acclaimed author Jessica Khoury.
Mega shout out to Penguins First To Read for giving me a a chance to read books that don't release anytime soon. Without them I would be waiting an eternity to read the books that I've been looking forward to.
I've been a fan of Jessica Khoury ever since I read her debut novel Origin. I remember reading that book and thinking "wow I can't wait for more of this authors work." Then The Forbidden Wish happened and now I adore Jessica even more.
The Forbidden Wish is unique and refreshing and if I could gush about this book 24/7 I would.
Jessica Khoury drew me in with her fierce jinni, Zahra. I loved Zahra so much that she has made my list of Top favorite female fictional characters. You guys I'm so happy this book was told from her point of view instead of Aladdin's. Don't get me wrong you are going to love this version of Aladdin but Zahra stole the book for me with her never ending hope for freedom. Zahra was smart and cunning and a total badass jinni who needs more books about her past and future because she's a jinni who will never be forgotten.
The banter between Zahra and Aladdin was the best. I shipped these two from the moment they met. Aladdin would ruffle Zahra by making jokes and she would get all wound up and ugh it was too cute watching these characters become friends and then more.
One of the things I liked most about The Forbidden wish the twist that Jessica Khoury placed with "Every wish comes with a price." It's not all happy endings with wishes, it's twisted and tricky and you won't even know what price was paid until after the wish has been granted.
I loved The Forbidden Wish so much that Jessica Khoury's retelling makes me wish it was the original tale. Reading The Forbidden Wish felt magical and I was simply enamored with the story and you will be too.