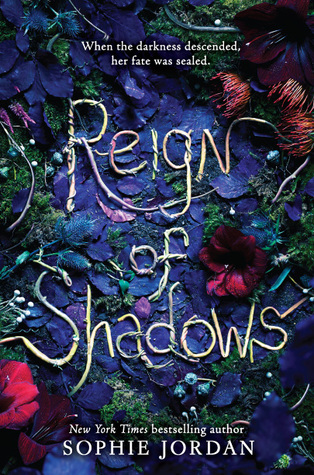 Title:
Reign of Shadows
Author:
Sophie Jordan
Publisher:
Harper Teen
Release Date:
February 9th 2016
Pages:
307
Format:
e
-
ARC
Source:
Edelweiss
Age Group:
Young Adult
Genre:
Fantasy
Seventeen years ago, an eclipse cloaked the kingdom of Relhok in perpetual darkness. In the chaos, an evil chancellor murdered the king and queen and seized their throne. Luna, Relhok's lost princess, has been hiding in a tower ever since. Luna's survival depends on the world believing she is dead.

But that doesn't stop Luna from wanting more. When she meets Fowler, a mysterious archer braving the woods outside her tower, Luna is drawn to him despite the risk. When the tower is attacked, Luna and Fowler escape together. But this world of darkness is more treacherous than Luna ever realized.

With every threat stacked against them, Luna and Fowler find solace in each other. But with secrets still unspoken between them, falling in love might be their most dangerous journey yet.

With lush writing and a star–crossed romance, Reign of Shadows is Sophie Jordan at her best.
I didn't think I could love Reign of Shadows as much as I did Firelight but Sophie Jordan made it happen. I read the book in one sitting and was left wanting way more.
Luna was a strong-genuine character that has been blind since birth and even being blind Luna knew how to move around in a world where there was light for only an hour. She didn't let her disability stop her from doing every day tasks. Luna has to leave her tower and as soon as she leaves, she experiences new things she never would have before like surviving and kissing and kicking ass.
Fowler reminded me a lot of Perry from Under the Never Sky. Even though Fowler may seem like he only cares about himself, that's not the case. Fowler knows firsthand what its like to care about someone too much so of course he has a wall up between himself and Luna at first.
Luna and Fowler made a pretty good team; they helped each other survive and when Fowler finally dropped his wall, I was one happy reader. The chemistry between those two was sweet and cute and had me wanting to swoon like crazy.
Both Luna and Fowler have secrets their keeping that will leave you wanting to scream and pull your hair out but even through all that you'll be cheering for them to have their happily ever after.
I loved everything about Reign of Shadows. It was fast paced. It was a unique and different world that is pretty scary. I mean just imagine a world where everything is pitch black and you have to stay inside at certain times lest the creatures get you.
The only thing I didn't like about this book was how short it was. YES when I finished the book my first thought was "where are the rest of the pages." And my second thought was "Sophie you can't do this to me." You see Reign of Shadows leaves off on a cliffhanger. A FREAKING CLIFFHANGER. I need the sequel right now like right this second.
Reign of Shadows was such a good book that I hope everyone reads it as soon as it releases so that you can suffer with me while we wait for the sequel.