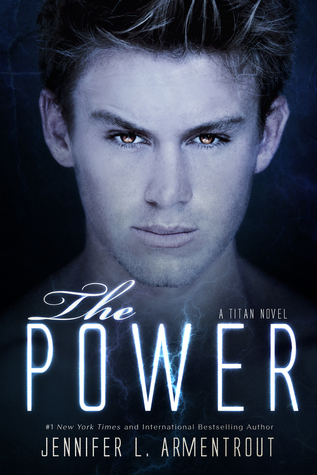 The Power (Titan #2)
Author: Jennifer L. Armentrout
Publication Date: February 23, 2016
Publisher: Spencer Hill Press
Pages: 344
Source: Publisher
Format: Paperback ARC
Age Group: New Adult
Genre: Mythology
With any great change, there is always strife, and the Covenant University has become the frontline between pure-bloods who want the Breed Order reinstated and the half-bloods who want the right to control their own destinies.

Fate has other plans.

The violence is escalating and war between the races seems inevitable, and it couldn't come at a worse time. Hyperion may be out of commission, but Josie and Seth know they have only earned a reprieve. Seth must get Josie fully prepared, which means controlling her newfound abilities, and they need to find the other demigods before the Titans do.

But the gods are sensing a greater threat.

Only one thing is more dangerous than a bunch of starved Titans, and that's an out-of-control Apollyon. The aether in Josie is drawing Seth in deeper, and when lust mixes with love and gives way to power, he knows being close to her is not only dangerous to her, but to everyone around them, but letting her go requires a level of selflessness that just isn't Seth's style.

The paths taken in the past are becoming the roads of the future.

Just as chaos breaks out, familiar faces from the past return, complicating the already strained bond between Josie and Seth, and when the danger from the Titans erupts with devastating consequences, the dark allure of power calls to Seth again, but this time Josie might not be able to pull him back.

And when the struggle between power and love becomes the deadliest battleground, there may be no salvation.
Oh my dear, Sethie. How I have missed you. I am not going to lie, I read The Return back in June of 2014! Yes, I managed to grab a copy at BEA and I started reading it like, ASAP! That was almost 2 years ago, so I had forgotten a lot of the details of what happened. I didn't have time to reread The Return before reading The Power, but I didn't fell like I was that out of the loop. Once I started reading, everything came back and I was on one hell of an adventure! One that Jennifer can only come up with.

Characters:

So Josie and Seth's relationship is pretty much out in the open. They act like a regular couple, only that Seth is somewhat holding back because of him being the Apollyon and even though he has turned over a new leaf, he still feel really guilty for all the stuff he did. I really felt like I connected with Josie in this book. I felt like I got to know her better. She's grown up and isn't that innocent little mortal anymore. She's finally realized that she needs to step it up if she wants to help destroy the Titans.

Twists & Surprises:

There is one surprise in this story that totally made me swoon. I was so happy that I literally squealed when I read it. I can't tell you what it is, because I want you to squeal just like me! LOL It brought back so many feels that just thinking about it gets me al excited again!

I fell in love with The Covenant series and the fact that Jennifer went ahead and gave us a spinoff for Seth is just icing on the cake. If you haven't started reading this series, I strongly suggest you change that. I promise you will be hooked from the very beginning and you won't put the books down until you read every single one. You don't really have to read The Covenant series before starting this one, but it will help bring everything together. I can't wait to see what else Jennifer has planned for Seth and Josie!


# 1 New York Times and International Bestselling author Jennifer lives in Martinsburg, West Virginia. All the rumors you've heard about her state aren't true. When she's not hard at work writing. she spends her time reading, watching really bad zombie movies, pretending to write, and hanging out with her husband and her Jack Russell Loki.

Her dreams of becoming an author started in algebra class, where she spent most of her time writing short stories….which explains her dismal grades in math. Jennifer writes young adult paranormal, science fiction, fantasy, and contemporary romance. She is published with Spencer Hill Press, Entangled Teen and Brazen, Disney/Hyperion and Harlequin Teen. Her book Obsidian has been optioned for a major motion picture and her Covenant Series has been optioned for TV. Her young adult romantic suspense novel DON'T LOOK BACK was a 2014 nominated Best in Young Adult Fiction by YALSA.

She also writes Adult and New Adult contemporary and paranormal romance under the name J. Lynn. She is published by Entangled Brazen and HarperCollins.