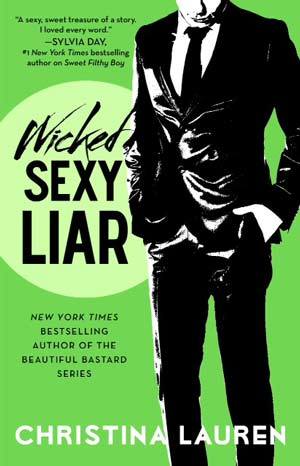 Wicked Sexy Liar (Wild Seasons #4)
Author: Christina Lauren
Publication Date:
Publisher: Gallery Books
Format: Paperback
Pages: 384
Source: Publisher
Age Group: New Adult
Genre: Contemporary Romance
When three college besties meet three hot guys in Vegas, anything can—and does—happen. Book Four in the New York Times Wild Seasons series that began with Sweet Filthy Boy (the Romantic Times book of the year that Sylvia Day called "a sexy, sweet treasure of a story"), Dirty Rowdy Thing, and Dark Wild Night.

For two people ambivalent about dating and love, they sure get naked around each other an awful lot . . .

London Hughes is very content to surf daily, tend bar, hang out with her group of friends, and slowly orient herself in the years after college. Everything's going great and according to the non-plan.

But when a wave knocks her for a loop one morning, then Luke Sutter's flirtatious smile knocks her for another that evening, she veers slightly off course…and into his path. Sure, he's a total player, but the Why not—it's only one night is a persistent voice in her ear.

For his part, Luke's been on hookup autopilot for so long that he rarely ever pauses to consider what he's doing. But after an amazing time with London, he realizes that he hasn't been moving on from a devastating heartbreak so much as he's been drifting to wherever—and whomever—the current takes him. With London he wants more.

Every relationship involves two people…plus their pasts. And as much as she enjoys her fling with Luke, when London learns about his past—more specifically, who's in it—everything becomes the brand of complicated she strives to avoid. It's up to Luke then to change some things in order to try and ensure he's not something she'll outright avoid as well.
LOVE, OBSESSION, LUST, PASSION, just a few of the emotions still pumping in my heart for this sexy read that will leave you speechless. I can't get enough of Christina Lauren and book #4 of the Wild Season's series Wicked Sexy Liar. I would like to start by thanking Christina Lauren for giving us the perfect specimen that is known as Luke Sutter. I almost died and went to heaven with all of the sexy scenarios between Luke and London. Their chemistry is just down right felt to the core of my beating heart…. The emotional connection between them just makes me want to SCREAM!!
Luke: Mia's ex is known to be somewhat of a womanizer with a good heart. He is attractive, sexy, sensitive, and drop dead gorgeous. London is roommates with Lola and is friends with Mia and even though she admires her friends' relationships, she is in no rush for one of her own. In fact, London doesn't know that Luke is Mia's ex when she first meets him at the bar where she works. Things between them quickly become complicated as the flirting is almost instant. They have a crazy connection and the chemistry between them is in my opinion breath taking! I caught myself relating to their situation and honestly in tears from their realistic, indescribable, passionate love affair. I feel in love with the way Christina Lauren allowed us to fully grasp the intensity between these two beautiful characters. I can honestly say I fell HARD for Luke and placed myself in London's shoes several times throughout this read. It is incredibly difficult to fall for someone who is known as a player with a dark past. But Luke is willing to put up a fight for London and this nearly broke me in half. The fact that a man who is used to getting what he wants, is willing to recognized when he has found something special is heartwarming and down right sexy.
"The most f**ked up thought hijacks my brain: I don't want to have sex right now. I want to kiss her. Just kiss. Just feel. I want to focus on the way she touches me, the sounds she makes when I touch her. We've charged through everything so far, and I want to go back and feel all the Firsts with her."
This quote by Luke left me bare. Unable to feel or think due to the enormous pain I felt in my heart for the both of them. Therefore I rate this tear dropping, heart stopping, read 5 owls because I could not find a single flaw. The characters are believable and oh so yummy! The storyline and pace of the read is phenomenal and the endless emotions felt throughout the entire book are just something I cannot put into words. I want to thank Christina Lauren and Gallery Books for once again not disappointing my expectations and for allowing me to FEEL!