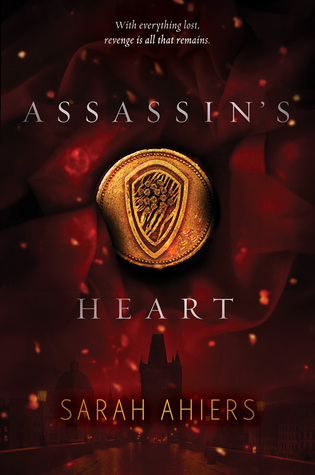 Assassin's Heart (Assassin's Heart #1)
Author: Sarah Ahiers
Publication Date: February 2, 2016
Publisher: HarperTeen
Pages: 400
Source: Edelweiss/Publisher
Format: e-ARC
Age Group: Young Adult
Genre: Fantasy
In the kingdom of Lovero, nine rival Families of assassins lawfully kill people for a price. As a highly skilled member of one of these powerful clans, seventeen-year-old Lea Saldana has always trusted in the strength of her Family. Until she awakens to find them murdered and her home in flames. The Da Vias, the Saldanas' biggest enemy, must be responsible—and Lea should have seen it coming. But her secret relationship with the Da Vias' son, Val, has clouded her otherwise killer instinct—and given the Da Vias more reason than ever to take her Family down.

Racked with guilt and shattered over Val's probable betrayal, Lea sets out to even the score, with her heart set on retaliation and only one thought clear in her mind: make the Da Vias pay.

With shades of The Godfather and Romeo and Juliet, this richly imagined fantasy from debut author Sarah Ahiers is a story of love, lies, and the ultimate vengeance.
Holy cow, that was some book! I knew before going in that I was going to love it, and boy was I right! Assassin's Heart has action, romance and even some swoon worthy moments! And just so everyone knows, Les is mine. You have been warned. I mean it! Ok, back to the review!

Sarah Ahiers created such a crazy, yet amazing world full of mystery and mayhem! I loved how she gave us the history and background of the assassins. She didn't just throw us into her world. I was able to picture everything so clearly. From the assassins, to the desert full of ghost.
This book had my attention from the first couple of pages! It's unlike anything I have ever read. The world is so different from any other fantasy book I have read. I think It's a little dark with the whole killing for their saint thing, but it all tied together and it was just brilliant.


I loved Lea and Les! They were each other's Ying and Yang. They belong together, like soul mates. Lea was focused about her plan to to avenge her family's death, but there were times where she felt things crashing around her. Les was her savior. I honestly believe that she wouldn't have made it if it weren't for him.

I can't wait for book two! I need to know more and I want to know more about this crazy world. Honestly, I don't think I could ever get enough. I highly recommend Assassin's Heart to all of you that love a strong female character and a crazy fantasy world!


Note to self: don't ever start a book at night because then you'll be reading it past your bedtime. It happened with Assassin's Heart. I thought I could read a couple pages and then put it down but that wasn't the case. I read half the book before sleepiness took over. then I heard my alarm ringing, letting me know it was time to get ready for work and all I could do was change, brush my teeth and continue reading until it was time for me to go.
Assassins Heart is Sarah debut novel and if I could I would give it all the stars. If you haven't already guessed, I LOVED LOVED Assassin's Heart to pieces. Sarah Ahiers wrote a fantastic story with kickass characters and action scenes that made my heart race like crazy.
There's just something about the intensity of a character hell bent on revenge that fuels my need to devour a book at warp speed. I instantly liked Lea Saldana from the first very chapter. She lost everything and instead of feeling hopeless she sought vengeance. While searching for ways to kill the Da Vis, Lea encounters someone who is in my opinion pretty great. Yes, I'm talking about Les. With his friendship, Lea became the person she was always meant to be and I couldn't be prouder of how it all played out.
One of the things I loved most about Assassin's Heart was the assassins. The history. How the system of their kills works. I loved learning about it all!!! The assassins in Assassins Heart are the real deal and I would never want to cross their ire.
Assassin's Heart was a fast paced read filled with betrayals, romance, action, you name it. I'm really hoping there's a sequel because I loved this world and characters so hopefully it happens.