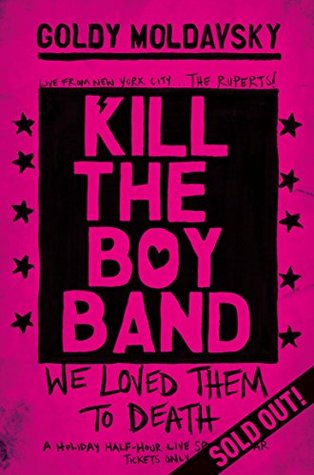 Kill The Boy Band
Author: Goldy Moldavsky
Publication Date: May 19, 2016
Publisher: McMillan
Pages: 320
Source: Gifted
Age Group: Young Adult
Genre: Contemporary
From debut author Goldy Moldavsky, the story of four superfan friends whose devotion to their favorite boy band has darkly comical and murderous results.

Okay, so just know from the start that it wasn't supposed to go like this. All we wanted was to get near The Ruperts, our favorite boy band.

We didn't mean to kidnap one of the guys. It kind of, sort of happened that way. But now he's tied up in our hotel room. And the worst part of all, it's Rupert P. All four members of The Ruperts might have the same first name, but they couldn't be more different. And Rupert P. is the biggest flop out of the whole group.

We didn't mean to hold hostage a member of The Ruperts, I swear. At least, I didn't. We are fans. Okay, superfans who spend all of our free time tweeting about the boys and updating our fan tumblrs. But so what, that's what you do when you love a group so much it hurts.

How did it get this far? Who knows. I mean midterms are coming up. I really do not have time to go to hell.
It's no secret that I am a big boy band fan. From back in the day with Backstreet Boys, to today's allure of One Direction, there's something about boy bands that just get us every time. But, could they drive us to obsession…and maybe murder?
Author Goldy Molvasky's dark thriller and comedic book "Kill The Boy Band" explores these unique themes and introduces us to a group of teen characters that are not only obsessed, but hold an array of secrets that unravel as the book takes off on a literary whim that will have you hanging on at every moment and at every twist and turn.
In "Kill The Boy Band," four superfan friends are dying to get close to the band The Ruperts during a Thanksgiving concert. The girls go as far as to get a hotel room where the band is staying, come up with elaborate lies to fool their parents, and in a turn of events they end up "accidentally" kidnapping the "ugliest" member to the band, Rupert P. Tied up in their hotel room, the kidnapping of Rupert P. leads to the characters unraveling before the reader and the secrets that are revealed will have you laughing and even cringing, in a good way, to the very end.
I thought the book was very cleverly written and I love how these "superfans" admit that they spend all of their free time tweeting about the boys and updating their fan tumblrs, and the book reminds us about how social media can play a part in fan obsession and society today. With clever quips and very edgy characters, the book is certainly a fun ride for those looking to indulge in something different that explores society, fandoms and the drama that can surround it all. I dare you to pick it up and let us know if it captures your interest as much as it did ours!