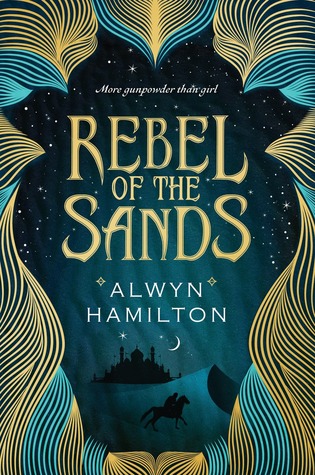 Rebel of the Sands (Rebel of the Sands #1)
Author: Alwyn Hamilton
Publication Date: March 8, 2016
Publisher: Penguin Teen
Pages: 320
Source: Publisher
Format: Paperback ARC
Age Group: Young Adult
Genre: Fantasy
She's more gunpowder than girl—and the fate of the desert lies in her hands.


Mortals rule the desert nation of Miraji, but mystical beasts still roam the wild and barren wastes, and rumor has it that somewhere, djinni still practice their magic. But there's nothing mystical or magical about Dustwalk, the dead-end town that Amani can't wait to escape from.

Destined to wind up "wed or dead," Amani's counting on her sharpshooting skills to get her out of Dustwalk. When she meets Jin, a mysterious and devastatingly handsome foreigner, in a shooting contest, she figures he's the perfect escape route. But in all her years spent dreaming of leaving home, she never imagined she'd gallop away on a mythical horse, fleeing the murderous Sultan's army, with a fugitive who's wanted for treason. And she'd never have predicted she'd fall in love with him...or that he'd help her unlock the powerful truth of who she really is.
When I first heard about Rebel of the Sands I knew it was going to be a fantastic read and I couldn't have been more right! It is a story unlike any other. The world is cruel and so realistic. It feels so real and the fact that it had a little bit of mythology in it, made it a must read for me.
I love Amani and Jin's characters! Amani is such a bad ass! I am seriously loving all these kick butt female protagonists i've been reading lately. Amani is strong, feisty and doesn't take no for an answer. When she is set out to do something, she does it no matter who or what gets in her way. Jin is the same way and even though when they first meet they are competing against each other, that doesn't stop them from realizing that there is something stronger then them pushing them together.
Even though I really loved reading Rebel of the Sands, there were times where I felt a little lost or confused. I am not sure if it was that my mind started wondering off or if it was the book. I had to go back and reread the paragraph in order to understand what had happened. Again, this could totally be me.
The ending wasn't really a cliffhanger, but it did make me want to know what would happen next. I for sure will be picking up the next installment in order to find out what happens with Jin and Amani.