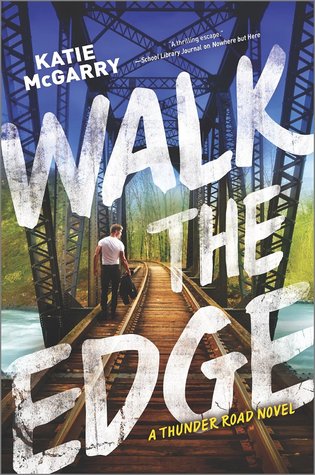 Title:
Walk the Edge
Author:
Katie McGarry
Publisher:
Harlequin Teen
Release Date:
March 29 2016
Pages:
384
Format:
ARC
Source:
ALA
Age Group:
Young Dult
Genre:
Contemporary



One moment of recklessness will change their worlds




Smart. Responsible. That's seventeen-year-old Breanna's role in her large family, and heaven forbid she put a toe out of line. Until one night of shockingly un-Breanna-like behavior puts her into a vicious cyber-bully's line of fire—and brings fellow senior Thomas "Razor" Turner into her life.




Razor lives for the Reign of Terror motorcycle club, and good girls like Breanna just don't belong. But when he learns she's being blackmailed over a compromising picture of the two of them—a picture that turns one unexpected and beautiful moment into ugliness—he knows it's time to step outside the rules.




And so they make a pact: he'll help her track down her blackmailer, and in return she'll help him seek answers to the mystery that's haunted him—one that not even his club brothers have been willing to discuss. But the more time they spend together, the more their feelings grow. And suddenly they're both walking the edge of discovering who they really are, what they want, and where they're going from here.
I loved the first book so much that waiting for the second in the Thunder Road series felt like an eternity. My plan was to only read a few chapters of Walk the Edge, since it was already late and I had to be up early for work, but once I started reading, I couldn't stop! Thomas "Razor" Turner has my heart, and I don't ever want it back.
Breanna has always wanted people to see her for the person she is on the inside, but because of her photogenic memory people don't understand and that makes Breanna feel isolated except when she's with Razor. With Razor, she can be who she wants because he understands how it is when society doesn't accept you.
Razor; I love Razor. He accepted Breanna and her brain with such ease and he would protect her from others, I about fainted. But Breanna aside, Razor had his own situation to worry about like figuring out if the club really did lie to him about his mothers death.
I'm really really really starting to appreciate slow burn romances that start as friendships first and then build to more. The intensity of the chemistry between Razor and Breanna was scorching hot; Those two together had me turning my ac on so I could cool down. Also, the way they would talk and understand each other just gave me all the feels; RAZOR AND BREANNA ARE OTP GOALS!
One of the things that sets Katie McGarry apart from other authors is the way she writes about family. It's not perfect. It's painful. Its messy. It's hateful. It's loving. Its beautiful. Every time Razor and Breanna had problems with their family, Katie didn't shy away from the ugly. We all have had our drama with our families but it's family and no matter how crazy they drives us, we still love them like crazy and Katie embodies all of that so well in her books.
Every time I finish reading a book by Katie McGarry I think "this is it, this is my favorite book by her and nothing will ever top it." and every time I am proven wrong. Walk the Edge is Katie McGarry's best book yet and I can't wait for Violet and Chevy's story.