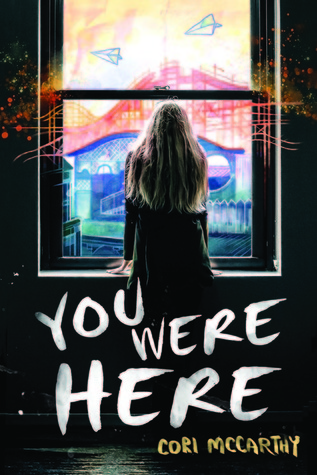 Title:
You Were Here
Author:
Cori McCarthy
Publisher:
Sourcebooks Fire
Release Date:
March 1st 2016
Pages:
400
Format:
eARC
Source:
Net Galley
Age Group:
Young Adult
Genre:
Contemporary
Grief turned Jaycee into a daredevil, but can she dare to deal with her past?

On the anniversary of her daredevil brother's death, Jaycee attempts to break into Jake's favorite hideout—the petrifying ruins of an insane asylum. Joined by four classmates, each with their own brand of dysfunction, Jaycee discovers a map detailing her brother's exploration and the unfinished dares he left behind.

As a tribute to Jake, Jaycee vows to complete the dares, no matter how terrifying or dangerous. What she doesn't bargain on is her eccentric band of friends who challenge her to do the unthinkable: reveal the parts of herself that she buried with her brother.
Wow! You Were Here was such a heart-wrenching yet fun read.
Jaycee's brother died 5 years ago on the day he graduated, he was doing a dare on a swingset and when he flipped he broke his neck. You can imagine how hard that must've been on Jaycee, she lost her brother and she saw it happen.
Natalie was a childhood friend of Jaycee, they stopped hanging out when Jaycee's brother died but Natalie had her own reason for distancing herself from Jaycee and when you find out why t's going to break your heart even more.
On the anniversary of Jaycee's brother death. Natalie sees Jaycee attempting to do the same flip her brother did so she rushes to her immediately to stop her and from then on pieces are set into motion.
Jaycee recruits Natalie, Zach, Bishop, and Mik to completed the dares left by her brother.
The dares the group did were eye-opening for them mainly because everyone has there own fears to face. I loved this group so much, they were sarcastic and sweet and just a joy to read about.
One of the things that made You Were Here extra special was that it was told in three POV', drawings, and graphics . The drawings from Bish are stunning and since he's going through a heartbreak that reflects in his art. Also the graphics from Mik are the best thing ever, kind of hope all of Cori McCarthy books will feature graphics =)
Another thing that I loved about You Were Here was the knowledge and history Cori McCarthy provided via Natalie, I felt as if I could see in clear detail exactly where the group was when Natalie explained everything. Next time I go exploring I want to know all the facts the place had.
You Were Here will hit everyone with laughter and tears. You will come to love these characters so much that you won't want to finish this book.