I was scrolling through twitter the other day when all I saw were tweets about this cover and how amazing it was. So naturally I clink on the link and my life is blown away, I did not know I needed a book as much as this one.
The cover was revealed over at
Forever Young Adult
and FROSTBLOOD RELEASES NEXT YEAR AND I NEED IT NOW! THE WAITING WILL BE TORTURE Y'ALL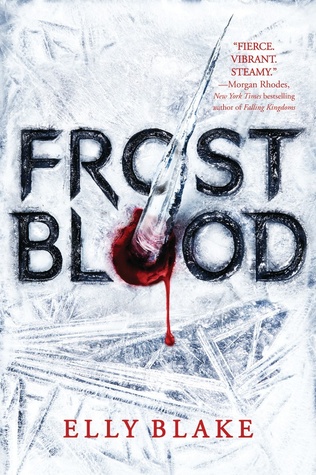 Title: FROSTBLOOD
Author: Elly Blake
Publisher: Little Brown Books for Young Readers
Release Date: January 2017
Genre: Fantasy
Seventeen-year-old Ruby is a fireblood who must hide her powers of heat and flame from the cruel frostblood ruling class that wants to destroy all that are left of her kind. So when her mother is killed for protecting her and rebel frostbloods demand her help to kill their rampaging king, she agrees. But Ruby's powers are unpredictable, and she's not sure she's willing to let the rebels and an infuriating (yet irresistible) young man called Arcus use her as their weapon. All she wants is revenge, but before they can take action, Ruby is captured and forced to take part in the king's tournaments that pit fireblood prisoners against frostblood champions. Now she has only one chance to destroy the maniacal ruler who has taken everything from her and from the icy young man she has come to love.
Frostblood looks good right?
BE SURE TO ADD IT TO YOUR TBR