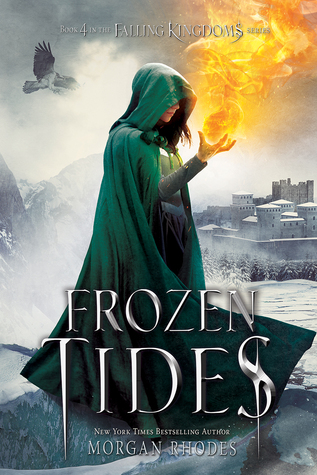 Title:
Frozen Tides
Author:
Morgan Rhodes
Publisher:
Razorbill
Release Date:
December 15, 2015
Pages:
409
Format:
eBook
Source:
Bought/Amazon
Age Group:
Young Adult
Genre:
Fantasy
Rebels, royals, and monsters wage war over the Mytican throne in the shocking fourth book of the Falling Kingdoms series, from New York Times bestselling author Morgan Rhodes.



CLEO: Reeling after a bloody showdown in Limeros ending with Amara's abduction of the water crystal, and a vacancy in the Mytican throne, Princess Cleo must cast aside her feelings and look toward her kingdom with the eyes of a Queen.




MAGNUS: With the kingdom in chaos, Princess Lucia still missing and quite possibly in danger, and a shocking realization about Cleo, the steely prince is once again torn between love and duty, leaving him wondering whether he's strong enough to rule his people.




LUCIA: The young sorcercess has had her vengeance after the cruel death of her first and only love. Heartbroken and unable to trust anyone, she allies with the awoken Fire god, who also seeks revenge.




JONAS: After escaping death by the skin of his teeth, the defeated rebel—along with a mysterious stranger–leader reunites with Princess Cleo, only to find himself a mere pawn in a dangerous hunt for the elusive Kindred.




KING GAIUS: Abandoned by Melenia and betrayed by his own children, Gaius flees Mytica and sails to Kraeshia, where he attempts to ally with the famously brutal emperor across the Silver Sea.
There's no way to write a review about Frozen Tides without expressing all of my feels so if you haven't read this series stop and go to another post.
. . .
Go back now
. . .
I'm warning you, this review is full of spoilers.
. . .
Last chance
. . .
Frozen Tides. I can't even begin to describe my emotions without turning into a blurring mess. Morgan Rhodes has always had that power over me and now it's even more evident with her 4th book in the Falling Kingdoms series.
The whole time while reading Frozen Tides I was like "OMGOMGOMGOMFOFMGOGM." Seriously if you think the other books are shocking just wait until you read this book.
First off Cleo and Magnus. THE SHIP HAS SAILED AND I AM SO DAMN HAPPY. I've wanted them to be a thing ever since they got married and it happened and I am in Magneo heaven and I don't ever want to come out. Cleo and Magnus have had so many hurtles to overcome together and separately that I'm glad they found finally admitted their true feelings to one another. Now that there's no denial about their feelings or even secrets, I feel like they'll finally be the team they were meant to be and to save their kingdom.
Jonas. Jonas. Jonas' life has once again been thrown upside down. Seriously this character never gets a break and it amazes me how he can keep going after everything that has happened to him especially when someone he cares about dies. Yes someone dies and I really wish that person would've lived because I liked said person.
Speaking of people I like, I am really surprised to say that I like Amara. Yes you read that right. How can I like Amara after what she did to her brother? Well you'll find out once you read her POV. Amara is still a character that goes after what she wants regardless of who gets hurt but now we know why and I can't wait to see where Morgan Rhodes takes this character because she's pretty hardcore.
Lucia has always been a character I did not like because of her naivety. . But In Frozen Tides that has changed, immensely. Lucia has finally come into her own, she is not letting anyone and I mean anyone use her or her power ever again. She makes a few mistakes here and there like trusting someone she shouldn't but she rectifies that situation and I was like "Go Lucia"
Let's talk about that cliffhanger ending.YOU GUYS THINGS ARE ABOUT TO GET EVEN MORE INTENSE IN THE FIFTH BOOK.
Frozen Tides was full of surprises that left me shocked, this book has changed the game forever.