Welcome to our stop on The Spotlight Tour for You Were Here.
I hope you enjoy the excerpt and that you'll add You Were Here to your tbr because this is one book you don't want to miss.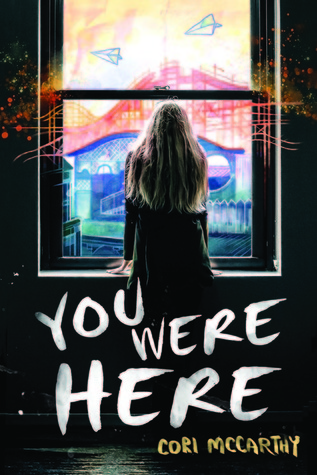 Title
: You Were Here
Author
: Cori McCarthy
Publication Date
: March 1, 2016
Publisher
: Sourcebooks Fire
Age Group
: Young Adult
Genre
: Contemporary
Grief turned Jaycee into a daredevil, but can she dare to deal with her past?

On the anniversary of her daredevil brother's death, Jaycee attempts to break into Jake's favorite hideout—the petrifying ruins of an insane asylum. Joined by four classmates, each with their own brand of dysfunction, Jaycee discovers a map detailing her brother's exploration and the unfinished dares he left behind.

As a tribute to Jake, Jaycee vows to complete the dares, no matter how terrifying or dangerous. What she doesn't bargain on is her eccentric band of friends who challenge her to do the unthinkable: reveal the parts of herself that she buried with her brother.
Goodreads
I
Amazon
I
Apple
I
Barnes&Noble
I
BooksAMillion
I
!ndigo
I
IndieBound
"What do I see?" I asked, turning back to the halo effect created by Margaret's splayed hair. "It was a game. She died because she was playing a game."
"Just like Jake," Natalie said.
"Right," I quipped, trying to mask not only my annoyance at Natalie's psychoanalyst tone but also a flare of grief. My chest grew tight. Why wouldn't it go away? Why did all this still buckle me to the ground? Tears burned my eyes, and I took my hair out of my ponytail. This never happened when I came here with Mik. Mik didn't talk or prod. Mik let me be while we walked around Jake's old haunt, wondering if he was actually haunting it.
"My dad said that OU will raze the TB ward." Bishop pointed out the window toward the building on the very top of the hill, by far the spookiest and most unkempt in The Ridges compound. "It's the only fully abandoned building."
"Raze?" I asked, suddenly angry. "When?"
"End of the summer, I think. My dad said it was going to cost a ton but that leaving the old building there while it was falling in is just asking for lawsuits."
"Jake loved the TB ward," I said. "They haven't stripped it down like this building."
"TB?" Zach asked.
"Tuberculosis," Natalie said.
Bishop squinted at his friend. "TB has been one of the leading terminal diseases in society since the dawn of civilization, Zach."
"But it doesn't exist anymore," Zach said. "Like leprosy."
"It totally exists," Natalie said. "And so does leprosy. Where do you learn these things?"
"TB is still the leading cause of death for all people with HIV," Bishop said. "But don't worry, Zach. You won't get it."
I was surprised to find Zach looking at me. "What kind of things are in there?"
I shrugged. "I've never been, but I know it's more dangerous. All the windows and doors are boarded up to keep drunk undergrads out."
"So there's no way in?" Bishop asked.
I shook my head. "Didn't say that. Every building in The Ridges compound is connected by basement tunnels. If we get into the basement, we can get into any building."
We all shuffled to our feet and stood around the last portrait of Margaret Schilling.
"I'm in," Bishop said, and I nodded. Bishop was cool; we'd been partners for two semesters straight in woodshop. He said odd, grandiose things sometimes, but I liked him for it. Plus there was a pretty good chance that Mik would show himself with only Bishop around.
"I'll take you two to the exit," I told Natalie and Zach.
"Well, hey," Zach said. "What if I want to come?"
Natalie looked at him, stunned. "You want to go? What about Kolenski's three kegs?"
"Kolenski gets kegs every couple of weeks." Zach shoved his hands in his pockets. He had sobered up since they'd entered The Ridges, and now he just looked worn down. Even his hair had flattened. I'd written him off years ago, but the way he'd helped me find Jake's footprint and waylaid Natalie…maybe he wasn't such a garden-variety "dude."
"Who else can say that they did this the night after graduation?" he added with a shrug.
"So Natalie's the loose end?" I said. "Big surprise."
"Wait a second. It was my idea to follow you in the first place. And I…I want to see it."
"Really?" Zach asked her. "Even if it's dangerous?"
"I'm going to minor in history. It'll be like walking around inside of history."
I knew Natalie well enough to know that she was deluding herself, but when I opened my mouth to point it out, I saw something instead. Bishop did too.
"Apple." He pointed to the ground. "Guys. There's an apple."
A shiny, green Granny Smith apple sat in the doorway. I picked it up.
"Where the hell did that come from?" Zach asked, fear trilling his voice. "Is someone else here? That wasn't there a few minutes ago, right? Right?"
They all looked up and down the hall. Nothing.
"Maybe Jake's ghost put it there. Or Margaret's," I said. A thump of what could only be described as happiness resounded through my chest. It was foreign and weird, and yet welcome.
"You're smiling," Natalie said. "Why are you smiling? You never smile."
I rubbed the apple on my shirt and took a huge crunching bite. Natalie looked like she was going to pass out. I winked. "This way to the basement."

Cori McCarthy studied poetry and screenwriting before falling in love with writing for teens at Vermont College of Fine Arts. From a military family, Cori was born on Guam and lived a little bit of everywhere before she landed in Michigan. Learn more about her books at

CoriMcCarthy.com
Runs 3/1-3/31 (US & Canada only)