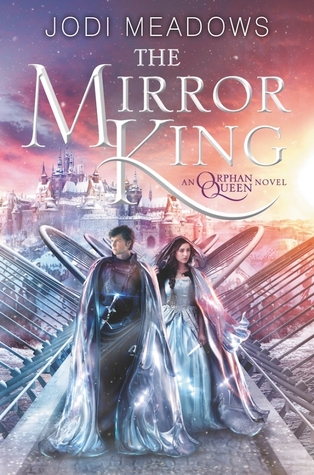 Title:
The Mirror King
Author:
Jodi Meadows
Publisher:
Katherine Tegan Books
Release Date:
April 5, 2016
Pages:
544
Format:
Paperback ARC
Source:
ALA-MW 16
Age Group:
Young Adult
Genre:
Fantasy
Wilhelmina has a hundred enemies.

HER FRIENDS HAVE TURNED. After her identity is revealed during the Inundation, Princess Wilhelmina is kept prisoner by the Indigo Kingdom, with the Ospreys lost somewhere in the devastated city. When the Ospreys' leader emerges at the worst possible moment, leaving Wil's biggest ally on his deathbed, she must become Black Knife to set things right.

HER MAGIC IS UNCONTROLLABLE. Wil's power is to animate, not to give true life, but in the wraithland she commanded a cloud of wraith mist to save herself, and later ordered it solid. Now there is a living boy made of wraith—destructive and deadly, and willing to do anything for her.

HER HEART IS TORN. Though she's ready for her crown, declaring herself queen means war. Caught between what she wants and what is right, Wilhelmina realizes the throne might not even matter. Everyone thought the wraith was years off, but already it's destroying Indigo Kingdom villages. If she can't protect both kingdoms, soon there won't be a land to rule.
The Orphan Queen had one of the worst cliffhangers ever. Seriously my heart broke when I read that last chapter and then to wait a whole year for the sequel. Yeah you can say I dived straight into The Mirror King for those unanswered questions.
The Mirror King starts off right where The Orphan Queen ended and I couldn't take it. I mean did Tobiah live or did he die? I won't say, you'll have to read it to find out for yourself.
I hate to say it but I loved The Mirror King so much more than The Orphan Queen. I don't know if it was the fact that we got to see more of Wil doing what she does best or the fact that she's finally taking control of her duties as a queen. But all in all Wil was more sure of the decisions she was making and I'm so happy with her character development.
Being a queen isn't easy and Wil had some obstacles to face but she was true to herself and fought for her people and yeah ALL HAIL QUEEN
Wilhelmina
!
One of the things I liked most about The Mirror King is the twist Jodi Meadows kept throwing at us and let me tell you they are so many twists in this book that you never see coming. My jaw was on the floor for days, I couldn't believe it. I was also shocked with a few deaths, I wasn't expecting them at all. I hard core cried when someone I cherished bit the dust but I understood why it had to happen.
Jodi Meadows outdid herself with this dualogy; The Mirror King had a fantastic conclusion that made me one happy reader.