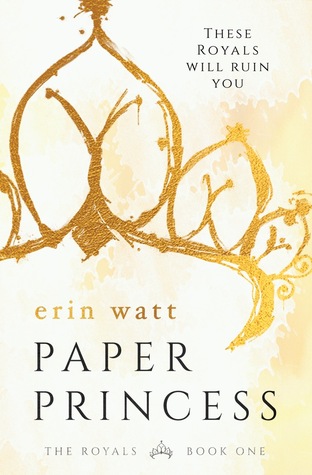 Paper Princess (The Royals #1)
Author: Erin Watt (Elle Kennedy & Jen Frederick
Publication Date: April 4, 2016
Publisher: Everafter Romance
Pages: 370
Source: Publisher
Format: eARC
Age Group: New Adult
Genre: Contemporary Romance
From strip clubs and truck stops to southern coast mansions and prep schools, one girl tries to stay true to herself.

These Royals will ruin you…

Ella Harper is a survivor—a pragmatic optimist. She's spent her whole life moving from town to town with her flighty mother, struggling to make ends meet and believing that someday she'll climb out of the gutter. After her mother's death, Ella is truly alone.

Until Callum Royal appears, plucking Ella out of poverty and tossing her into his posh mansion among his five sons who all hate her. Each Royal boy is more magnetic than the last, but none as captivating as Reed Royal, the boy who is determined to send her back to the slums she came from.

Reed doesn't want her. He says she doesn't belong with the Royals.

He might be right.

Wealth. Excess. Deception. It's like nothing Ella has ever experienced, and if she's going to survive her time in the Royal palace, she'll need to learn to issue her own Royal decrees.
PURCHASE LINKS:
Wow, just wow! This book is so not what I had expected, it was so much more!! I don't even know where to begin. PAPER PRINCESS is a blend of Mean Girls, Gossip Girl and Cruel Intentions. If that didn't get your attention, then you have really bad taste in movies/shows. Just kidding! But seriously, PAPER PRINCESS is all kinds of epic. From the romance to the drama and all the Reed swoon worthy moments, it had my head and heart pumping! Oh, so good!


Ella has had a rough life. Her mother has passed away from cancer when Ella was only 15 and now at 17 years old, she is pretty much on her own. She has no dad, nor family to take care of her. Her mom did the best she could with what life dealt her. Even though she had to strip, and possibly other things, in order to help feed and put a roof over her and Ella's head. Desperate, broke and fearful of being put in foster care, she takes her mom's ID and decides to strip for money. Yeah, she was 15 when she started doing this. Pretty sad, huh? So, when one day a man claiming to know her dad and that he would now be her guardian, Ella doesn't know what to do. She had everything all planned out. She doesn't want to go with him, but he makes her an offer, she can't refuse.
Oh, let me tell you, these Royals are bad. Hot and sexy, and bad. They are wild and spoiled which is a bad combination. They all treat Ella like crap and make her life miserable at home and at home. But I love the fact that Ella doesn't let it get to her. She fights back and stands up for herself. I can't stand it when the female character is weak. So believe me when I tell you that Ella is a badass!
I'm not sure whether or not this book is being marketed as YA or NA. The characters are in high school, but the content is pretty mature for YA. So, I am going to say that it's for adults even considering the characters ages.
The ending killed me! I was so mad and confused. I don't understand why he would do that to her!! I guess I will find out in book two! So make sure you order your copy TODAY!!