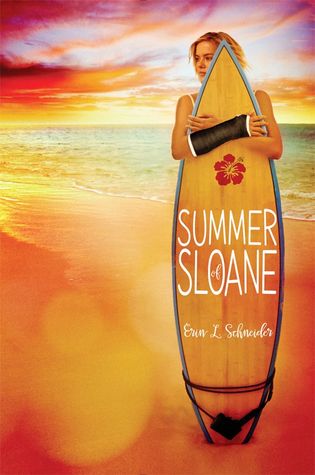 Summer of Sloane
Author: Erin L. Schneider
Publication Date: May 3, 2016
Publisher: Disney-Hyperion
Pages: 304
Source: ALA
Format: Paperback ARC
Age Group: Young Adult
Genre: Contemporary Romance
Warm Hawaiian sun. Lazy beach days. Flirty texts with her boyfriend back in Seattle.

These are the things seventeen-year-old Sloane McIntyre pictured when she imagined the summer she'd be spending at her mom's home in Hawaii with her twin brother, Penn. Instead, after learning an unthinkable secret about her boyfriend, Tyler, and best friend, Mick, all she has is a fractured hand and a completely shattered heart.

Once she arrives in Honolulu, though, Sloane hopes that Hawaii might just be the escape she needs. With beach bonfires, old friends, exotic food, and the wonders of a waterproof cast, there's no reason Sloane shouldn't enjoy her summer. And when she meets Finn McAllister, the handsome son of a hotel magnate who doesn't always play by the rules, she knows he's the perfect distraction from everything that's so wrong back home.

But it turns out a measly ocean isn't nearly enough to stop all the emails, texts, and voicemails from her ex-boyfriend and ex-best friend, desperate to explain away their betrayal. And as her casual connection with Finn grows deeper, Sloane's carefree summer might not be as easy to find as she'd hoped. Weighing years of history with Mick and Tyler against their deception, and the delicate possibility of new love, Sloane must decide when to forgive, and when to live for herself.
Sloane McIntyre imagined nice waves, cute texts with her boyfriend Tyler, and face time calls with her best friend Mick for her summer. Instead Sloane arrives to Hawaii where her mom and her stepdad live a total mess. Things got really out of hand back in Seattle before she left. After finding out a secret between her best friend and her boyfriend, and confronting him she loses her cool and almost loses her arm in the process. This secret has torn her apart in so many ways that she doesn't know who to believe. This summer in Hawaii is exactly what she needs especially after finding herself a distraction from the constant texts, emails, calls, and letters from her ex-best friend and her ex- boyfriend.
There are so many flips and flops in the story that Sloane is like a fish out of water. The real question is will Sloane be emotionally capable to go back home? The author Enn Schnider is a great writer and I'm looking forward to reading more of her books! A part two of this book is definitely necessary because I would love to see how her new life is going! Schnider did a wonderful job at keeping the book interesting the entire time with unexpected twist and turns. One thing I would've enjoyed at the end of the book would be a little after paragraph of what happened with Sloane. Other than that, its truly one of the best books I've read in a long time and I can't wait for more!