Hello, Owls! Welcome to our blog stop for The Crown's Game by Evelyn Skye! We recently asked Evelyn a question about her research for The Crown's Game and wanted to share her answer with you.
Oh, and don't forget to follow Evelyn on her social media and enter her amazing giveaway!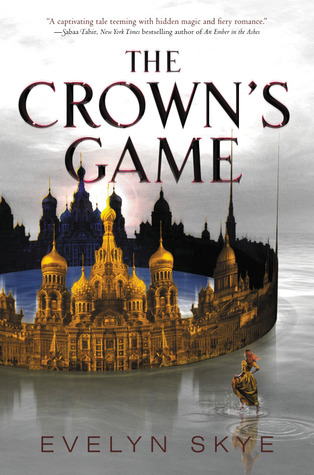 The Crown's Game
Author: Evelyn Skye
Publication Date: May 17, 2016
Publisher: Balzer + Bray
Age Group: Young Adult
Genre: Fantasy
Vika Andreyeva can summon the snow and turn ash into gold. Nikolai Karimov can see through walls and conjure bridges out of thin air. They are enchanters—the only two in Russia—and with the Ottoman Empire and the Kazakhs threatening, the Tsar needs a powerful enchanter by his side.




And so he initiates the Crown's Game, an ancient duel of magical skill—the greatest test an enchanter will ever know. The victor becomes the Imperial Enchanter and the Tsar's most respected adviser. The defeated is sentenced to death.




Raised on tiny Ovchinin Island her whole life, Vika is eager for the chance to show off her talent in the grand capital of Saint Petersburg. But can she kill another enchanter—even when his magic calls to her like nothing else ever has?




For Nikolai, an orphan, the Crown's Game is the chance of a lifetime. But his deadly opponent is a force to be reckoned with—beautiful, whip smart, imaginative—and he can't stop thinking about her.




And when Pasha, Nikolai's best friend and heir to the throne, also starts to fall for the mysterious enchantress, Nikolai must defeat the girl they both love... or be killed himself.




As long-buried secrets emerge, threatening the future of the empire, it becomes dangerously clear... the Crown's Game is not one to lose.
Research and Russian Profanity in THE CROWN'S GAME
A frequent question I get about THE CROWN'S GAME is: How did you do all the research on Imperial Russia?
Maybe readers imagine me in an ancient library somewhere, sitting amidst stacks of yellowed paper, wearing fur-lined capes and donning a Romanov tsarina's tiara on my head… oh, wait. That's just what I wish had happened.
Truth is, I didn't do a ton of research while I was writing THE CROWN'S GAME, because I had already done it. I spent three years at Stanford studying Russian literature and history and eventually graduated with a bachelor's degree in the subject. So when I wrote THE CROWN'S GAME, my research was more along the lines of affirming details I had forgotten or verifying things I thought I knew but wasn't quite sure of.
The most fun was working with my former Stanford professor on Nikolai and Pasha's swear words. Russian has a very colorful lexicon of profanity, and it seemed I would have a wealth of phrases to choose from. (I also loved getting emails chock full of curse words from my esteemed professor.)
But actually, we decided that Nikolai and Pasha would have been relatively mild in what they said. After all, these were boys raised amongst the aristocracy of the Imperial Capitol. And it would have been likely that they would curse in French, not Russian, because the nobility in Russia at the time spoke mostly French (they were very Western European in St. Petersburg.)
If Nikolai or Pasha were to swear in Russian, though, they would likely do it incorrectly, since it wouldn't be as familiar a tongue. I liked this idea a lot, and I did use it in THE CROWN'S GAME in one scene. It's very much in Pasha's character to want to try to curse in Russian (and to get it wrong but be unaware of it). It's one of his many endearing moments in the book.
So back to the original question of how I did all the research?
The answer is: With a big smile on my face. And a bunch of Russian curse words on my tongue. (And if you want a more serious answer, read my Author's Note at the end of the book, where I go into more detail about what is and isn't historically accurate in the book, and where I got my inspiration from.)
Evelyn Skye was once offered a job by the C.I.A., she not-so-secretly wishes she was on "So You Think You Can Dance," and if you challenge her to a pizza-eating contest, she guarantees she will win. When she isn't writing, Evelyn can be found chasing her daughter on the playground or sitting on the couch, immersed in a good book and eating way too many cookies. THE CROWN'S GAME is her first novel. Evelyn can be found online at www.evelynskye.com and on Twitter @EvelynSkyeYA.
1 winner will receive a beautiful custom THE CROWN'S GAME necklace (similar to the one in the photo below) made by the lovely Tales of A Ravenous Reader, US Only.
Make sure you follow the rest of the tour to see review, interviews and more guest posts!
Tour Schedule:
Week One:
5/9/2016- Dark Faerie Tales- Guest Post
5/10/2016 - Owl Always Be Reading- Guest Post
5/11/2016- 125Pages- Review
5/12/2016- A Backwards Story- Review
5/13/2016- Two Chicks on Books- Guest Post
Week Two:
5/16/2016- The Reader Lines- Review
5/17/2016- Once Upon a Twilight- Guest Post
5/18/2016- That Artsy Reader Girl- Review
5/19/2016- Supernatural Snark- Guest Post
5/20/2016- Mundie Moms- Review