Hey, Owls! Welcome to our tour stop for THE PROBLEM WITH FOREVER by Jennifer L. Armentrout! I can not tell you how much I love this book! So make sure you check out my review and enter the giveaway! Also, Make sure you take advantage of the pre-order incentive so you can get some pretty cool swag and an excerpt that you can start reading right away!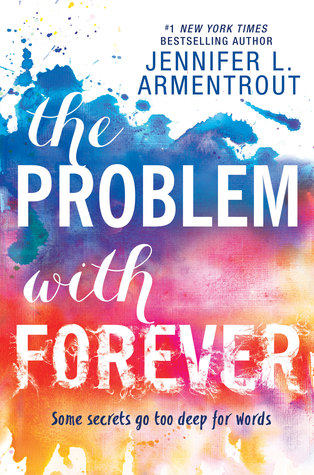 The Problem with Forever
Author: Jennifer L. Armentrout
Publication Date: May 17, 2016
Publisher: Harlequin Teen
Format: Paperback ARC
Source: Publisher
Pages: 480
Age Group: Young Adult
For some people, silence is a weapon. For Mallory "Mouse" Dodge, it's a shield. Growing up, she learned that the best way to survive was to say nothing. And even though it's been four years since her nightmare ended, she's beginning to worry that the fear that holds her back will last a lifetime.

Now, after years of homeschooling with loving adoptive parents, Mallory must face a new milestone—spending her senior year at public high school. But of all the terrifying and exhilarating scenarios she's imagined, there's one she never dreamed of—that she'd run into Rider Stark, the friend and protector she hasn't seen since childhood, on her very first day.

It doesn't take long for Mallory to realize that the connection she shared with Rider never really faded. Yet the deeper their bond grows, the more it becomes apparent that she's not the only one grappling with the lingering scars from the past. And as she watches Rider's life spiral out of control, Mallory faces a choice between staying silent and speaking out—for the people she loves, the life she wants, and the truths that need to be heard.
If you know me, you all know I am a huuuuuuuge Jennifer Armentrout fan. I have all her books and have pretty much read them all too. So with that being said, THE PROBLEM WITH FOREVER is totally different from what we are used to from JLA. It was amazing just like her other books, but I just can't pinpoint what it is about this one that felt different.
Mallory (Mouse) is in high school and totally a loner. It's her first year attending public school since she has been homeschooled ever since she was adopted. Mallory didn't have a good childhood, actually, she had a horrible one. She was a foster kid and her foster parents, if you could even call them "parents" were monsters. The things she saw, heard and endured were things that no kid should EVER experience! I literally cried reading those parts. It's because of her childhood and PTSD that Mallory is so quiet and doesn't really talk much. On her first day of public school, Mallory sees Rider and all her thoughts, memories and feelings come back. You see, Rider and Mallory lived together in that horrible nightmare. It was Rider that kept her safe and protected her. So you can see what it is for Mallory when she first sees Rider after not seeing him after that one crazy night all those years ago.
Rider is now one of my favorite male characters. He's sweet, caring and very protective over Mallory. You can tell that he loved her from the very beginning. He's been in love with her since they were 6 years old. I am sure that it didn't start off as a romantic kind of love, but more of a survival and protective love. They were all they had. There wasn't anyone else to love them, so they loved each other.
Now that Rider and Mallory are back together, they are no longer the same people. They live on different sides of the "railroad tracks." But even though they are different now, deep inside they are still those scared little kids hiding and trying not to be noticed in the house full of monsters.
I laughed, cried, swooned and cried some more. Jen, THE PROBLEM WITH FOREVER is a story that I will never forget. Thank you for pouring your heart, sweat and tears into this book.
# 1 New York Times and International Bestselling author Jennifer lives in Martinsburg, West Virginia. All the rumors you've heard about her state aren't true. When she's not hard at work writing. she spends her time reading, watching really bad zombie movies, pretending to write, and hanging out with her husband and her Jack Russell Loki.

Her dreams of becoming an author started in algebra class, where she spent most of her time writing short stories….which explains her dismal grades in math. Jennifer writes young adult paranormal, science fiction, fantasy, and contemporary romance. She is published with Spencer Hill Press, Entangled Teen and Brazen, Disney/Hyperion and Harlequin Teen. Her book Obsidian has been optioned for a major motion picture and her Covenant Series has been optioned for TV. Her young adult romantic suspense novel DON'T LOOK BACK was a 2014 nominated Best in Young Adult Fiction by YALSA.

She also writes Adult and New Adult contemporary and paranormal romance under the name J. Lynn. She is published by Entangled Brazen and HarperCollins.
Make sure you follow the Blog Tour for THE PROBLEM WITH FOREVER!
The Problem With Forever Review Tour
May 9
Mundie Moms
Mary Had a Little Book Blog
K-Books
Reads and Thoughts
Booklovers For Life
May 10
Milky Way of Books
Deity Island
Less Reality More Books
Lovin' Los Libros
Once Upon a Twilight
The Book Bratz
May 11
Stuck in YA Books
The Book Swarm
The Book Hookup
Take Me Away To A Great Read
Love Between The Sheets
May 12
City of Books
Krista's Dust Jacket
PBC
The Reading Geek
Readers Live A Thousand Lives
May 13
kimberlyfaye reads
True Story Book Blog
StuckInBooks
Bows & Bullets Reviews
MEReadALOT
A Bookish Escape
May 14
My YA NA Book Obsession
DanaSquare
The Cover Contessa
My Random Book Thoughts
May 15
Owl Always Be Reading
No BS Book Reviews
Nose Stuck in a Book
MrsLeifs Two Fangs About It Book Reviews
Jenuine Cupcakes
May 16
A Glass Of Wine
Star-Crossed Book Blog
Hypable.com