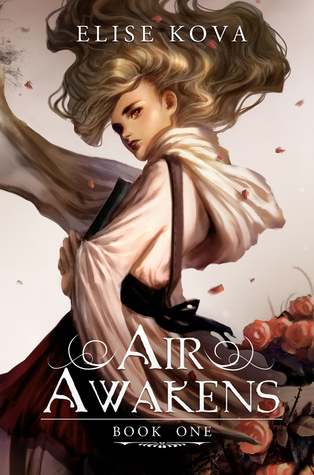 Title:
Air Awakens
Author:
Elise Kova
Publisher:
Silver Wing Press
Release Date:
April 27th 2015
Pages:
377
Format:
e-book
Source:
Bought
Age Group:
Young Adult
Genre:
Fantasy
A library apprentice, a sorcerer prince, and an unbreakable magic bond...

The Solaris Empire is one conquest away from uniting the continent, and the rare elemental magic sleeping in seventeen-year-old library apprentice Vhalla Yarl could shift the tides of war.

Vhalla has always been taught to fear the Tower of Sorcerers, a mysterious magic society, and has been happy in her quiet world of books. But after she unknowingly saves the life of one of the most powerful sorcerers of them all—the Crown Prince Aldrik—she finds herself enticed into his world. Now she must decide her future: Embrace her sorcery and leave the life she's known, or eradicate her magic and remain as she's always been. And with powerful forces lurking in the shadows, Vhalla's indecision could cost her more than she ever imagined.
This book. So damn good. The characters, the world, everything. The magic, the mystery, I could go on and on!
Vhalla. First of all, rocking name. Second of all, library apprentice! Though Vhalla is a commoner, she is exceedingly bright and driven to learn through reading as many books as she can get her hands on. I love that she has a good head on her shoulders, and despite the turmoils that she faces, she falls back on her intelligent and logic to help her on her journey.
The Crown Prince. Lord Jesus! What an asshole, but in an oh so perfect way. The depths of this character simply astound me, and I am about to start the third book in the series! Just layer after layer after layer of depth with this one. But still, a complete and utter asshole.
Let's talk about the author for a moment.
Ballsy. Elisa Kova is not afraid to go there with her characters.
I say this because The Crown Prince does something so unforgivable to Vhalla, and rather than show even a hit of remorse, he kicks her when she's at her lowest. When he did what he did to her, I was completely shocked and angry. I could not believe his actions. However, it was so perfect for the book, and for his character.
The side characters in this book are equally as integral to the story as our two main characters are. There is not one person that we meet in the story that does not serve an exact purpose for moving the story forward, and I love that.
This first book in the series is about Vhalla learning that she is a sorcerer. She has been taught to fear sorcerers all her life, and when she learns early on, that she is one, she rebels against the notion. Through the guidance of her books and a mysterious library phantom, she soon discovers that being a sorcerer may not be as bad as everyone thinks.
You need this book, and this series in your life.
Perfect for fans of fantasy series that have astouding amounts of layered depths to them.