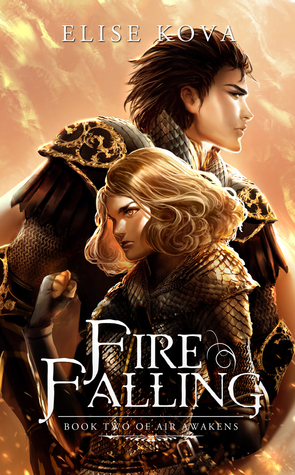 Title:
Fire Falling
Author:
Elise Kova
Publisher:
Silver Wing Press
Release Date:
November 9, 2015
Pages:
380
Format:
Paperback
Source:
Bought
Age Group:
Young Adult
Genre:
Fantasy
Soldier… Sorcerer… Savior… Who is Vhalla Yarl?

Vhalla Yarl marches to war as property of the Solaris Empire. The Emperor counts on her to bring victory, the Senate counts on her death, and the only thing Vhalla can count on is the fight of her life. As she grapples with the ghosts of her past, new challenges in the present threaten to shatter the remnants of her fragile sanity. Will she maintain her humanity? Or will she truly become the Empire's monster?
Fire Falling so did not suffer from that ill fated second book syndrome. In fact, I thought it was even better than Air Awakens!
Fire Falling picks up pretty much exactly where Air Awakes leaves off.
Vhalla finds herself conscripted into the Emperor's Army, with zero knowledge about war, other than the theoretical knowledge learned from books. She knows that her lenient punishment is really a death sentence, despite her budding powers.
Those closest to her vow that she will not die, that they will train her, and do everything in their power to see that she lives. Even if they themselves must pay the ultimate price.
Over the course of the book, Vhalla makes new friends, discovers new enemies, learns to fight, to survive, to begin to earn the respect of her peers. She knows that the path she walks is precarious, so many things can go wrong, and do, but though she feels broken from the hardships she has faced thus far, she fights through it all to become stronger than she ever was.
While Vhalla must learn who she can trust, who she can rely on, she also must deal with the growing bond she has with Aldrik. As always, he remains elusive, confusing, dark. One minute he's hot, literally and figuratively, the next, he's as cold and distant as a glacier. Will he help her to salvation, or will he be her destruction?
Elise Kova's Air Awakens Series is simply amazing. She is one hell of a writer, and can build a world and cast of characters that completely entrances.
Please, please, please pick up this series. You will not be disappointed!