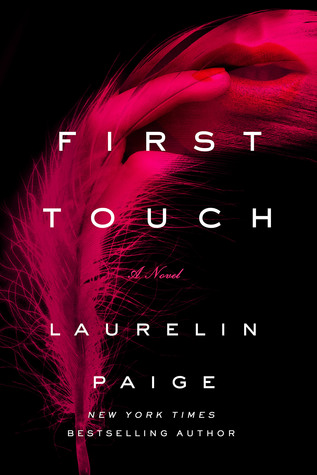 First Touch (First and Last #1)
Author: Laurelin Paige
Publication Date: December 29, 2015
Publisher: St. Martin's Griffin
Format: Paperback
Pages: 371
Source: ALA Midwinter/Publisher
Age Group: Adult
Genre: Suspense/Romance/Erotica
When Emily Wayborn goes home to visit her mom while on hiatus from her hit TV show, she receives a voicemail from her former best friend, Amber. Though the two were once notorious party girls, they haven't spoken in years. Although the message might sound benign to anyone else, Amber uses a safe word that Emily recognizes, a word they always used to get out of sticky situations during their wild days. And what's more chilling than the voicemail: it turns out that Amber has gone missing.

Determined to track down her friend, Emily follows a chain of clues that lead her to the enigmatic billionaire Reeve Sallis, a hotelier known for his shady dealings and play boy reputation. Now, in order to find Amber, Emily must seduce Reeve to learn his secrets and discover the whereabouts of her friend. But as she finds herself more entangled with him, she finds she's drawn to Reeve for more than just his connection to Amber, despite her growing fear that he may be the enemy. When she's forced to choose where her loyalty lies, how will she decide between saving Amber and saving her heart?
There are no words to describe how much this book touched my mind, heart, and soul. First Touch destroyed me!!! Tore me to shreds and made me feel every word to the ABSOULTE depth of my BEING. So many twist and turns, unexpected sightings and gut wrenching scenes to die for in this magnificent dark thriller romance!! And if this description isn't enough to have you run to your local book store to purchase this book, the cover alone is breathless. When I first saw the beautiful picture of the feather, I didn't even notice the image being portrayed. The cover is actually a feather that turns into a finger that is touching lips at the up most right corner. This creative and sexy cover also has a soft, delicate, texture that had me rubbing the cover consistently. I know this may sound crazy to most; but for those who love books this is just an extra stimulator! J Well enough about my obsession let's get to the characters and the fun parts.
The story begins with Emily Barnes (Wayborn) by Hollywood standards getting a weird voice mail from her ex-best friend and lover Amber Pries. In the message which was left as a voice mail on her Alzheimer's mother's number, Amber uses their safe word blue raincoat. This word leaves Emily breathless and scared because she knows her dear friend is in trouble. So she decides to investigate with her last known boyfriend Reeve Sallis. This is where things start to get crazy because Reeve is a man's man alpha stud who is known for his wealth, parties, luxurious resorts, and his infamous relationships with women. Emily is no stranger to this type of man as her and Amber pimped themselves out in their youth for men just like Reeve. Men with money and men who were willing to take care of them financially in exchange for sex!!! Without giving too much away, Emily decides to seduce Reeve in order to get answers concerning Amber whereabouts. However, old habits die HARD and before she knows it Emily is deeply in love with Reeve. At first I thought this was absolutely insane, how can she love the man who may have possibly killed her best friend.
So many questions linger throughout this entire read. Emily even hires a private detective (Joe) in an effort to get to the bottom of the mysterious suspenseful events leading up to Amber's disappearance. But even the smallest of leads still leaves unanswered questions. And in the mix of losing her battle with Reeves Emily finds herself trapped. In love with a man who is known by most to be dangerous, dark, and able to payoff anyone or anything that gets in his way. Reeves is they type of man that knows how to consume, confuse, and comfort his women and I so loved this about him. As Emily states herself "Reeves is the type that left bruises, scars, fear, and hurt". But none of these characteristics is enough to destroy Emily and Reeves passion and desire. You can literally feel the chemistry between these two beautiful characters. If you are looking for a book that is full of mystery, romance, seduction, and erotica this read will not disappoint. I still find myself days later picking up this book and re-reading my favorite parts and highlighting every page that gave me goose bumps! I personally believe that Laurelin Paige did a phenomenal job with the characters, storyline, plot, and everything about this read was perfect. I could not find a single thing that I felt needed to be changed. This will definitely be one of my favorite romance/suspense authors and I plan on reading other books by Laurelin Paige in the future.