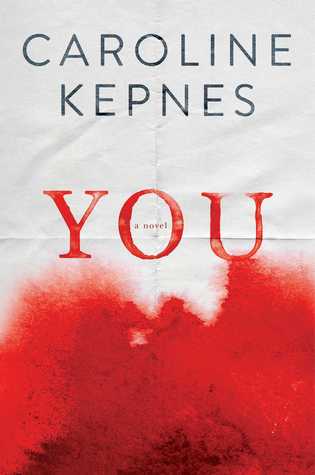 You (You #1)
Author: Caroline Kepnes
Publication Date: September 30, 2014
Publisher: Atria Books
Format: Audio
Nararator: Santino Fontana
Source: Bought
Age Group: Adult
Genre: Phycological Thriller/Mind F**k
When a beautiful, aspiring writer strides into the East Village bookstore where Joe Goldberg works, he does what anyone would do: he Googles the name on her credit card.

There is only one Guinevere Beck in New York City. She has a public Facebook account and Tweets incessantly, telling Joe everything he needs to know: she is simply Beck to her friends, she went to Brown University, she lives on Bank Street, and she'll be at a bar in Brooklyn tonight—the perfect place for a "chance" meeting.

As Joe invisibly and obsessively takes control of Beck's life, he orchestrates a series of events to ensure Beck finds herself in his waiting arms. Moving from stalker to boyfriend, Joe transforms himself into Beck's perfect man, all while quietly removing the obstacles that stand in their way—even if it means murder.
I finished reading YOU a couple of weeks ago, and it's taken me that long to write the review. I have never read a book quite like this one before. Actually, I listened to it and Santino Fontana WAS the perfect Joe. He WAS Joe! I can not begin to tell you how much this book creeped me out! I has to take little breaks here and there because I just couldn't continue to be inside Joe's head for that long. That man is CRAZY!
Caroline Kepnes had to do some serious psychological research on sociopaths because that is what Joe is. He has no remorse, no empathy for any of is crazy actions and that is the reason why I couldn't listen to him for too long. I was beginning to question my own sanity. With that said, I have to say that YOU is absolutely brilliant! The way Caroline lets us in Joe's head, is creative and a little creepy. LOL
Overall I really enjoyed YOU, but I think that the audio and the voice of Santino Fontana is what made the book for me. I can't wait to listen to Hidden Bodies, which is book two! But I am going to wait a few months before I do, since I'm still pretty messed up after YOU. LOL