It all began with a wave, the sea of which became infinite. Now, the last star will rise.
If you have not read The 5th Wave yet
You need to get on that immediately.
I had the pleasure of meeting Rick Yancey a few years back, when The Infinite Sea was first released, but I didn't read The 5th Wave until the movie was released.
I know, I know.
However, I did read it and I loved it. As soon as I finihsed the book, I went to see the movie the next day. Though there obviouslly were a lot of changes made, and several elements from the story were missing, I still loved the movie.
After finishing The 5th Wave, I immediately picked up The Infinite Sea.
I have yet to finish it...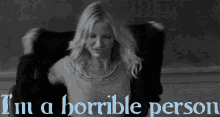 But wait! In my defense, I'm scared.
1. I did start it and it was good, just not not as amazing as The 5th Wave was. It was just very slow compared to the first book. So kinda suffering from that second book syndrom.
2. I've heard from lots of people that they just did not like The Infinite Sea. Like, at all. So I am worried that since the book began with a rocky start for me, that I will not like it...
I do plan to pick it up again soon, because the release of The Last Star is right around the corner, but I am going to wait just a little bit longer. I want to have The Last Star in my possession so that I can marathon the last two books.
Anyway...for those of you who have read The Infinite Sea, here is an extended sampler of The Last Star.