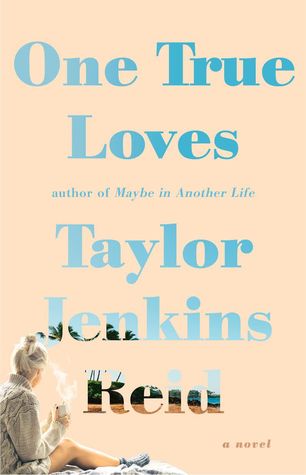 One True Loves
Author: Taylor Jenkins Reid
Publication Date: June 7, 2016
Publisher: Atria Books
Source: Publisher
Format: eARC
Age Group: New Adult
Genre: Contemporary Romance
From the author of Maybe in Another Life—named a People Magazine pick and a "Best Book of the Summer" by Glamour and USA TODAY—comes a breathtaking new love story about a woman unexpectedly forced to choose between the husband she has long thought dead and the fiancé who has finally brought her back to life.

In her twenties, Emma Blair marries her high school sweetheart, Jesse. They build a life for themselves, far away from the expectations of their parents and the people of their hometown in Massachusetts. They travel the world together, living life to the fullest and seizing every opportunity for adventure.

On their first wedding anniversary, Jesse is on a helicopter over the Pacific when it goes missing. Just like that, Jesse is gone forever.

Emma quits her job and moves home in an effort to put her life back together. Years later, now in her thirties, Emma runs into an old friend, Sam, and finds herself falling in love again. When Emma and Sam get engaged, it feels like Emma's second chance at happiness.

That is, until Jesse is found. He's alive, and he's been trying all these years to come home to her. With a husband and a fiancé, Emma has to now figure out who she is and what she wants, while trying to protect the ones she loves.

Who is her one true love? What does it mean to love truly?

Emma knows she has to listen to her heart. She's just not sure what it's saying.
So my book friend Natasha from Book Baristas was raving about ONE TRUE LOVES on Instagram one day and I thought, wow, that's a pretty cover. I did't think much more of it until a few days later I saw that she had gone and gotten a tattoo of a quote from the book! You know a book has to be good when someone permanantly engraves something on their skin. Luckily, the publisher had already sent me an eARC copy of it. I was reading something else that I really wasn't feeling at the moment. I figured I would leave it for the time being and start ONE TRUE LOVES. Let me tell you! This book was Ah-May-Zing!!!! Seriously! If you don't mind love triangles, them this book is for you! If you hate love triangles, I still think this book is for you!
One True Loves broke my heart in so many ways that I never thought were possible. I just can't describe the rollercoaster of emotions that were going through me. I literally felt my heart breaking. I felt the loss of Jesse right along with Emma. She was broken after he was presumed dead after his helicopter went down in the Pacific ocean the day before their 1st year wedding anniversary. Pretty messed up right? Well, it still hurt when he turns up alive and still wanting to be with her, but Emma had already moved on. I mean, can you blame her? She reunited with Sam from high school and he was the one that brought her back to life after Jesse. He was there to pick up the pieces.
I am usually not a fan of love triangles, but there was something about this story that caught my eye, and as I read it, my heart too. The characters were so real as were their feelings and emotions. There were so many quotes that I loved and that touched me. I pretty much have the whole book tabbed with all of my favorites. I was definitely cheering for one of the guys, but I am not going to tell you which one. Everything comes together in the end and i was one lucky girl!

Please, please, pleeeeeaasseeeeeee put One True Love on your TBR list. I promise you will fall in love with it just as much as I did.
Taylor Jenkins Reid is an author and essayist from Acton, Massachusetts. She is the author of Forever, Interrupted, After I Do and Maybe In Another Life. She lives in Los Angeles with her husband, Alex, and her dog, Rabbit.