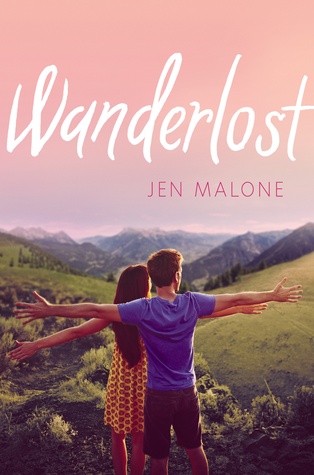 Title: Wanderlost
Author: Jen Malone
Publication Date: May 31, 2016
Publisher: Harper Teen
Pages: 352
Source: Bought
Format: Paperback
Age Group: Young Adult
Genre: Contemporary
Not all those who wander are lost, but Aubree Sadler most definitely is on this novel's whirlwind trip through Europe.

Aubree can't think of a better place to be than in perfectly boring Ohio, and she's ready for a relaxing summer. But when her older sister, Elizabeth, gets into real trouble, Aubree is talked into taking over Elizabeth's summer job, leading a group of senior citizens on a bus tour through Europe.

Aubree doesn't even make it to the first stop in Amsterdam before their perfect plan unravels, leaving her with no phone, no carefully prepared binder full of helpful facts, and an unexpected guest: the tour company owner's son, Sam. Considering she's pretending to be Elizabeth, she absolutely shouldn't fall for him, but she can't help it, especially with the most romantic European cities as the backdrop for their love story.

But her relationship with Sam is threatening to ruin her relationship with her sister, and she feels like she's letting both of them down. Aubree knows this trip may show her who she really is—she just hopes she likes where she ends up.
"Who knows what bodily functions I'll be privy to on this trip." And that is exactly right. Because this book made me laugh out loud and tear up a little, all at the same time. There was something so nostalgic about this book. It is the true definition of a coming-of-age story. From the beginning of the story, we are thrown into a mess of mishaps and action that takes us on a literal and psychological ride.

The story begins with Aubree, who is trying to get into her sister's good graces after Aubree's poor decisions land her sister (Elizabeth) in hot water and left having to attend a court hearing. Since her sister was supposed to give a European tour as a condition to securing a very important political position, Elizabeth devises a scheme - Aubree will go instead and pose as Elizabeth. The problem is, Aubree has never been on her own, let alone in an European country. What ensues is a journey based on lies and watching her get out of it is altogether cringe-worthy but fun and sweet.

As Elizabeth, or Lizzie, she forms friendships with the senior citizens on the trip and also bonds with the son of the tour's owner, Sam. The fact that she has to hide her identity from everyone makes the conflict altogether real and bittersweet. Fans of the Sound of Music will be pleased as it is Aubree's favorite musical and Austria just happens to be one stop on the tour.

Overall, I really enjoyed this story and is a perfect summer read to be enjoyed poolside or at the beach.