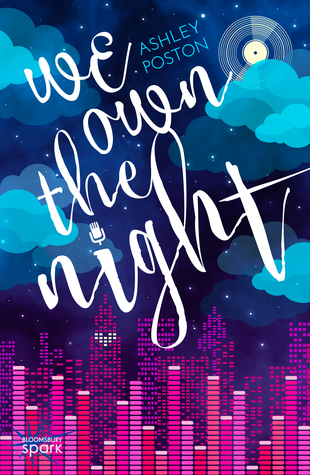 Title: We Own the Night (Radio Hearts #2)
Author: Ashley Poston
Publication Date: June 28, 2016
Publisher: Bloomsbury Spark
Pages: 250
Source: Netgalley/Bloomsbury Spark
Age Group: Young Adult
Genre: Contemporary
"Happy midnight, my fellow Niteowls..."

As a candy store employee by day, and mysterious deejay "Niteowl" by night, eighteen-year-old Ingrid North is stuck between rock 'n roll and a hard place. She can't wait to get out of her tiny hometown of Steadfast, Nebraska (population three hundred and forty-seven) to chase her dreams, but small-town troubles keep getting in the way. She can't abandon her grandmother with Alzheimer's, or her best friend Micah--who she may or may not be in love with.

But for one hour each Saturday, she escapes all of that. On air, she isn't timid, ugly-sweater-wearing Ingrid North. She's the funny and daring Niteowl. Every boy's manic pixie dream girl. Fearless. And there is one caller in particular-- Dark and Brooding--whose raspy laugh and snarky humor is just sexy enough to take her mind off Micah. Not that she's in love with Micah or anything. Cause she's not.




As her grandmother slips further away and Micah begins dating a Mean-Girls-worthy nightmare, Ingrid runs to the mysterious Dark and Brooding as a disembodied voice to lean on, only to fall down a rabbit hole of punk rockstars, tabloid headlines, and kisses that taste like bubble tea. But the man behind the voice could be surprising in all the right, and wrong, ways.

And she just might find that her real life begins when Niteowl goes off the air.
We Own the Night by Ashley Poston was a fun contemporary YA read! The fact that I couldn't put it down was a big indicator. The author herself describes this novel as a Sleepless in Seattle meets St. Elmo's Fire, with a little Green Day's "American Idiot" mixed in. And I think this description is highly accurate. It also explains her amazing references throughout the book from Hocus Pocus to Star Wars to When Harry Met Sally.

Ingrid North lives in Steadfast, Nebraska, a small town with a population of less than 400 residents. Right away, we get a good sense of her inner struggle between wanting to remain in this town and wanting to jump fast and furiously on a jet plane (no matter where the plane is headed). As the story develops, the author does a great job of building compelling reasons for both choices all while unfolding the protagonist's journey through complex character development. The spot-on pacing makes it satisfying for the reader when Ingrid finally does make her choice in the end. I love seeing the theme of "home" and what is means to different people at different stages of our life.

It's refreshing to see diversity reflected in the supporting cast who are multi-dimensional and who are just as important in aiding Ingrid navigate this critical time in her life. I enjoyed the dynamics between her and her friends (LD, Billie, and Micah) and I truly did get a sense that their intertwined history renders it hard for them to be objective about each other. Can we ever really forget those things we experienced as children when life was simpler and freer? What if the clean-cut star football player once rocked blue hair and was a total hipster?

This may be dating me a bit but this book reminded me of a 1990 movie by the name of Pump up the Volume. Some of you may not have seen it and if you get the chance to watch it, I highly recommend it. It features a very young, very hot, Christian Slater. In the book, like the movie, Ingrid is a student by day and elusive radio jockey by night on 93.5 KOTN who goes by the name of NiteOwl (we love Owls!). Ingrid, for reasons slowly developed throughout the story, hasn't told anyone that she is the midnight DJ - all the while attracting tons of followers. Her real life doesn't reflect the same excitement and freedom she gets from her secret identity and it's great to see her approach to her dual life propel the narrative. There's even a subplot involving a "Justin Bieber" type that is interwoven brilliantly.

We Own the Night contains everything I love in a contemporary YA. Poston has a talent for making the reader feel as claustrophobic as some of the young people in this town do, all while engaging the readers' senses with vivid imagery. And of course, there is romance! Although a bit predictable, I still wanted to keep reading to see how it would all unfold. There are also topics concerning family, sexuality, and identity that makes this more than just a superficial read. Overall, I didn't want it to end. Unlike some of the characters in the book, I wanted to stay in Steadfast, Nebraska forever.

This one is not to be missed.