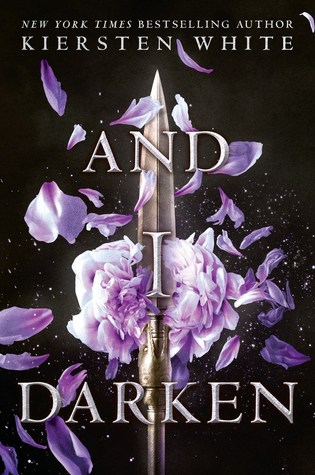 Title: And I Darken
Author: Kiersten White
Publication Date: June 28, 2016
Publisher: Delacorte Press
Pages: 484
Source: Publisher
Format: Paperback
Age Group: Young Adult
Genre: Fantasy
No one expects a princess to be brutal. And Lada Dragwlya likes it that way. Ever since she and her gentle younger brother, Radu, were wrenched from their homeland of Wallachia and abandoned by their father to be raised in the Ottoman courts, Lada has known that being ruthless is the key to survival. She and Radu are doomed to act as pawns in a vicious game, an unseen sword hovering over their every move. For the lineage that makes them special also makes them targets.

Lada despises the Ottomans and bides her time, planning her vengeance for the day when she can return to Wallachia and claim her birthright. Radu longs only for a place where he feels safe. And when they meet Mehmed, the defiant and lonely son of the sultan, Radu feels that he's made a true friend—and Lada wonders if she's finally found someone worthy of her passion.

But Mehmed is heir to the very empire that Lada has sworn to fight against—and that Radu now considers home. Together, Lada, Radu, and Mehmed form a toxic triangle that strains the bonds of love and loyalty to the breaking point.
And I Darken is one of those books that will keep you up at night. You will not care about sleep or food or anything. All you will care about is the new story that Kiersten White has created.

And I darken is intense especially one of my favorite characters . . . Ladislav, aka Ladi who is fierce and a total badass. At a young age she was already causing trouble and beating up anyone who dared mess with her. Lada is a force to be reckoned with, I would never ever want to get on her bad side.

Radu is Lada's younger brother who at times got on my nerves but by the end of the book he stepped it up, and whoa I cannot wait for this sequel.

One of the things that really stood out in this book was all the action, there's not a page that goes by that isn't filled with some sort of fight. Kiersten white must've really did some research because holy hell reading And I Darken was like watching a video game in your head.

Although I liked And I Darken, at times I felt like this book could've split into two; too much info is dumped in the book that could have been used for the sequel. Also another thing I didn't like was the triangle so I'm curious as to what will happen with that so hurry up sequel.

If you love fantasy. And I Darken will consume you entirely.