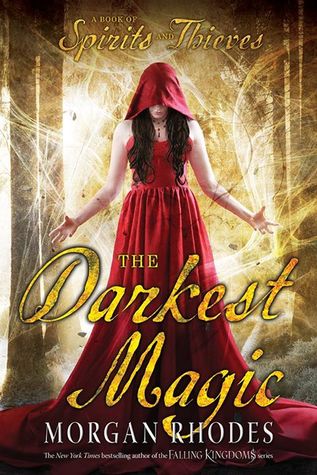 Title: The Darkest Magic
Author: Morgan Rhodes
Publication Date: June 28, 2016
Publisher: Razorbill
Pages: 448
Source: Bought
Format: Hardcover
Age Group: Young Adult
Genre: Fantasy
Modern-day Toronto: Sisters Crystal and Becca Hatcher are reunited after reclaiming the Bronze Codex and narrowly escaping death. They have no one to trust but each other, and the only thing keeping them safe is the book that sent Becca's spirit to Ancient Mytica--the same book that their enemies would kill them for.

Ancient Mytica: Maddox grapples to keep his newly discovered powers under control, while the ruthless goddess Valoria hunts him down.

Modern-day Toronto: Farrell embraces his dark side as he unwittingly falls further under the spell of Markus, the mastermind leader of the nefarious Hawkspear Society, who will stop at nothing to find Crys and Becca--and the remarkable book in their possession.
As much as I loved A Book of Spirits and Thieves I have to say that The Darkest Magic is now my favorite from this trilogy.
In Toronto, A Book of Spirits and Thieves left off with Crys and Becca escaping Marcus with the book. Now they are in hiding trying to decode the Codex and seek answers on how to destroy the power Marcus has over his society.
Becca and Crys really stepped it up in the sequel, they aren't letting the adults do all the work. The sisters want answers and will get them regardless of who says it's too dangerous. Becca surprised me, when she sets her mind to something she is as stubborn as a bull and even though she has an evil relative that doesn't stop her from doing the right thing.
And oh Farrell, that guy doesn't get a break. Markus has even more control of Farrell now and Farrell just keeps getting pulled into his schemes. The things Markus makes Farrell do has me hating Markus soooo much (like can you leave Farrell alone and bother someone else) There's a new villain who is even more evil than Markus so I don't even know what to think anymore.
In Mytica, Maddox is running from Valoria but when tragedy befalls Maddox, he is on a quest for survival. You guys the tragedy was horrible, it was a death that I did not see coming and my heart broke for Maddox. Along his journey Maddox is learning to control his necromancy power and I must say he is someone to fear.
There's a new character that is introduced and I adored her. Her name is Liana, she's a witch, so you already know she can take care of herself. You guys know I live for couples that detest each other from the beginning so you can imagine how hard I was shipping Barnabas and Liana together. There's a secret by the end of the book that gets revealed and I was basically saying omgomgomgomfomg.
One of the things I really liked about The Darkest Magic was the growth the characters have demonstrated since the first book and it's great to see them really take charge of their life. Another thing I love about this series is how we are learning more about the goddesses and how it ties into the Falling Kingdoms series. (I kind of want all the goddess to have their story now too)
Morgan Rhodes has created a spinoff trilogy that has me wishing it never ended. If you haven't read the Falling Kingdoms series and A Book of Spirits and Thieves then I suggest you change that right now, you do not want to miss out on this fantasy story.