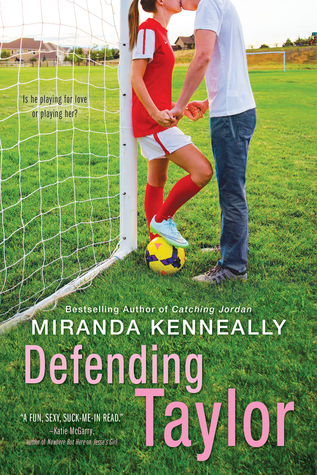 Title: Defending Taylor
Author: Miranda Kenneally
Publication Date: July 5, 2016
Publisher: Sourcebooks Fire
Format: eARC
Source: Netgalley/Publisher
Pages: 304
Age Group: Young Adult
Genre: Contemporary
There are no mistakes in love.
Captain of the soccer team, president of the Debate Club, contender for valedictorian: Taylor's always pushed herself to be perfect. After all, that's what is expected of a senator's daughter. But one impulsive decision-one lie to cover for her boyfriend-and Taylor's kicked out of private school. Everything she's worked so hard for is gone, and now she's starting over at Hundred Oaks High.

Soccer has always been Taylor's escape from the pressures of school and family, but it's hard to fit in and play on a team that used to be her rival. The only person who seems to understand all that she's going through is her older brother's best friend, Ezra. Taylor's had a crush on him for as long as she can remember. But it's hard to trust after having been betrayed. Will Taylor repeat her past mistakes or can she score a fresh start?
In my eyes, Miranda Kenneally can do no wrong. She had me at Catching Jordan (which is still my absolute favorite of the series with Things I Can't Forget a close second). After reading all 7 of the published Hundred Oaks books, I can reflect on the running themes all of them have to offer.
Marketing choices are interesting and the fact that these books all show a "couple" in front of every book, except for maybe Breathe, Annie, Breathe, display a very simplistic view as these books are about so much more! Miranda Kenneally sure knows how to write some swoon worthy romance! Seriously, I wished I had these books growing up but I enjoy them in my '30's just fine.
It's also evident that Mrs. Kenneally has a government background and I love that it is interwoven into her storylines (there was also The Unexpected Everything that nicely contained the same this year). It's also lovely that we get to see cameos from characters of the other books but every book can be read as a stand-alone.
Defending Taylor is no different in that multiple issues abound. Taylor is our main character. And I've got to say, I loved her because she was a perfect mix of sympathetic and strong girl. The catalyst of the story is that Taylor makes a choice. Good or bad, it's a choice she must come to terms with and watching how she handles it is completely inspiring.
This book is really about finding out who you are and what you love and going after those things without making excuses. Life gets in the way sometimes but I think people tend to forget that we still have a choice - that we are the captains of our own destinies.

Miranda Kenneally, in the acknowledgements section, states the following, "with Defending Taylor, I want to show readers that working hard is important - I wouldn't be where I am now if I hadn't worked hard, but living life is important too. I hope you live, live, live."
So, after all that heavy life stuff, let's talk about Ezra! Wow, he was just perfect. A guy going through his own life choices and I loved Ezra and Taylor together. I'm a complete sucker for a good friends to romance journey.
Please don't miss this! I cannot recommend her books enough.