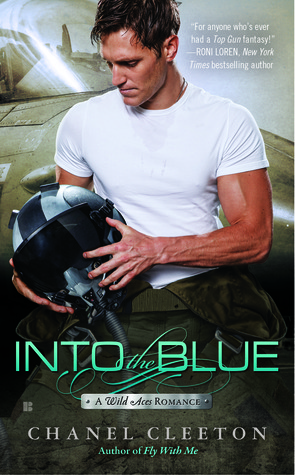 Title: Into the Blue
Author: Chanel Cleeton
Publication Date: July 5, 2016
Publisher: Berkley
Pages: 320
Source: Publisher
Format: Paperback
Age Group: Adult
Genre: Contemporary
Eric Jansen—call sign Thor—loves nothing more than pushing his F-16 to the limit. Returning home to South Carolina after a tragic loss, he hopes to fix the mistake he made long ago, when he chose the Air Force over his fiancée.

Becca Madison isn't quick to welcome Thor back. She can't forget how he shattered her heart. But Thor won't give up once he's set his sights on what he wants—and he wants Becca.

Thor shows Becca that he's no longer the impulsive boy he used to be, and Becca finds herself irresistibly drawn to him. But will Thor be able to walk away from his dream of flying the F-16 for their love or does his heart belong to the sky?
I knew I was a goner as soon as I finished the first chapter of Into the Blue.


Into the Blue was a second-chance romance that I absolutely loved, I'm a firm believer that anything is worth trying again especially love.
Becca and Eric, who's call sign is Thor, were happily engaged until fights about their future started and Eric left. 10 years later Eric is back in town and the love they had for each other is still there, bright as ever.
I would admit that at the beginning of the story I was mad as hell at Eric, I mean how could he break up with Becca through a letter. (Can you just imagine how much hurt Becca must've went through when she read the letter?) So it's no wonder Becca has walls up every time she runs into Eric and I was glad she gave him the cold shoulder at first. But . . . Eric being Eric wiggled his way into Becca and my good graces. As into the blue progress we start to see more of the man Eric has become and I'm so glad he's not the same kid who broke Becca's heart. Eric is someone who knows he made a mistake by leaving and is trying to win his girl back.
Chanel took my heart through the ringer; I was jumping for joy, swooning, crying, smiling and had a range of emotions with each new page I read of this story. The love Becca and Eric have doesn't go away easily and I'm so happy this couple found a way back to each other.
Into the Blue was a fast paced read that made me pull an all nighter and I'm so looking forward to the next installment of this series.