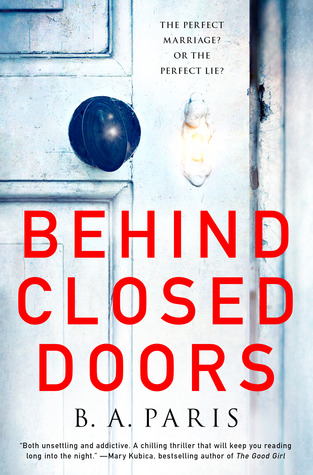 Title: Behind Closed Doors
Author: B.A. Paris
Publication Date: August 9, 2016
Publisher: St. Martin's Press
Pages: 304
Source: Publisher
Format: ARC/Paperback
Age Group: Adult
Genre: Psychological Thriller
Everyone knows a couple like Jack and Grace: he has looks and wealth, she has charm and elegance. You'd like to get to know Grace better. But it's difficult, because you realize Jack and Grace are never apart. Some might call this true love. Picture this: a dinner party at their perfect home, the conversation and wine flowing. They appear to be in their element while entertaining. And Grace's friends are eager to reciprocate with lunch the following week. Grace wants to go, but knows she never will. Her friends call -- so why doesn't Grace ever answer the phone? And how can she cook such elaborate meals but remain so slim? And why are there bars on one of the bedroom windows? The perfect marriage? Or the perfect lie?
This book was fantastically creeptastic! It gave me major heart palpitations and imprinted a fear in me that I couldn't quite shake off. I had to take several breaks as I read. And it wasn't because it was suspenseful. In fact, the author shows us her hand right up front. We know exactly what's going on within the first couple of chapters but it's exactly why I felt compelled to keep reading. I couldn't wait to see how events would unfold, especially when we find out how despicable and loathsome Jack really is.


Behind Closed Doors allowed me to reflect on the realities some people face behind their own closed doors. Especially when you see Jack through Grace's eyes. At one point, she wonders how someone so evil could be so handsome. I mean, why doesn't he have unsightly horns growing out of his head for all the world to see? Scary and Grace's first-hand account makes it even more terrifying. Like many books I've read as of late, it's told in alternating past/present chapters. This technique dominated the pacing, kept my heart racing and the goosebumps flaring.
Despite spotting a few plot holes, I enjoyed the reading experience. My heart broke for Grace's sister, Millie, who was born with Down syndrome. Grace's ploy to escape this dreaded life hinges on keeping her sister safe. Her unconditional love towards her sister, and her sister's love and trust in her, was touching and if I bit my fingernails, I would have nubs for fingers.
What made it even more riveting was the relationship Jack and Grace had with their alleged friends. Several dinner parties and lunches later, no one has caught onto the fact that something is dreadfully wrong with this marriage. Except for one. And this also made me think: how many details do we really notice about people? Are we programmed to not dig too deep? And even if we notice things that seem "off," how much of our own imagination leads us to conclude the opposite of the truth because the truth is so outlandish?
But that ending...I don't know if it could've been more perfect. I loved it!
I suggest this one if you're in the mood for a dark, twisty, tense drama, with well-written characters and unrelenting pacing. But before you do, I feel the need to say that if someone has ever experienced anything close to what goes on between this couple, it may prove painful. And as a dog lover, there was an incident in the book that was hard to digest.