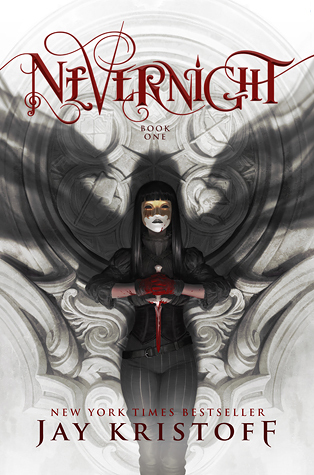 Title: Nevernight (The Nevernight Chronicles #1)
Author: Jay Kristoff
Publisher: Thomas Dunne Books
Release Date: August 9, 2016
Pages: 448
Format: eARC
Source: Netgalley
Age Group: Adult
Genre: Fantasy
In a land where three suns almost never set, a fledging killer joins a school of assassins, seeking vengeance against the powers who destroyed her family. Daughter of an executed traitor, Mia Corvette is barely able to escape her father's failed rebellion with her life. Alone and friendless, she hides in a city build from the bones of a dead god, hunted by the Senate and her father's former comrades. But her gift for speaking with the shadows leads her to the door of a retired killer, and future she never imagines. Now, Mia is apprenticed to the deadliest flock of assassins in the entire Republic - the Red Church. If she bests her fellow students in contests of steel, poison and the subtle arts, she'll be inducted among the Blades of the Lady Blessed Murder, and one step closer to the vengeance she desires. But a killer is loose within the Church's halls, the bloody secrets of Mia's past return to haunt her, and a plot to bring down the entire congregation is unfolding in the shadows she so loves. Will she even survive to initiation, let alone have her revenge?
While I certainly appreciate Jay Kristoff's efforts in writing this book - characterization, story, world-building, etc., this book just wasn't for me. I know fellow guest blogger, Ursula, does not feel the same (as she loves the book!) but that's the beauty of reading and having so many options available.
First, a lot of fellow readers on Goodreads continue to point out that this is a book for adults and not YA. That's important to note because there are many scenes that include graphic violence and the sex is very descriptive. Although I think it depends on the maturity level and that older teenagers will be able to handle it, it's not really for younger kids (so please keep that in mind). And I think I also went in thinking that it was YA.
From the start, there were many things that caught my interest. There's something so spectacularly adventurous about going into a book that thrusts you into a new world. For some reason, the beginning of the story was reminiscent of The Count of Monte Cristo and I can't really put my finger on as to why, as it is not the same story. Maybe it was the feeling of revenge and vengeance which is slowly incorporated by the italicized flashbacks - which is interspersed throughout with the present day.
The juxtaposition of Mia losing her physical virginity and killing virginity right on the first two pages was absolutely genius. I feel that it's important to mention that this book has footnotes and that was somewhat unexpected. The footnotes didn't really bother me at first. I actually liked the sense of the anonymous narrator being there with you, along for the ride, and there were plenty of witty anecdotes to hold my interest. But I did find myself abandoning them about halfway through the story, once Mia arrives at the Red Church. This may be because I've always associated footnotes with academia and it slowed down my enjoyment of the story as it took me "out of the moment" way too much.
There's quite a bit that happens on her way to the Red Church, where Mia is to receive her training to become an assassin. This includes meeting Tric, her eventual love interest. I enjoyed seeing their relationship develop. Once she and Tric arrive, the story's pacing slowed down but I was intrigued by the secondary characters and always got the sense that there was a hidden layer to the story which continued to hold my interest. And my instincts proved right as there are several twists and turns towards the end of the story. This was expected as this is the first book in the series.
I will say though, the mashup of language pulled me out of the story quite a bit. It was an amalgamation of olde English, modern slang, and made-up vernacular that just didn't work for me. All in all, there were a lot of positive aspects to this story and I'm more than sure that it will have numerous fans. And I do think it's deserving of at least three Owls because again, I appreciate the hard work an author puts into finishing a book. But like I said before, it just wasn't my cup of tea. Please let us know what you think and whether you've read it or are excited to read it. Overall, it's been interesting to see the differences of opinions.