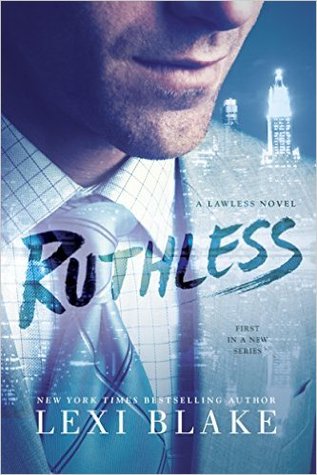 Title: Ruthless
Author: Lexi Blake
Publication Date: August 9, 2016
Publisher: Berkley
Pages: 304
Source: Publisher
Format: Paperback
Age Group: Adult
Genre: Contemporary
The Lawless siblings are bound by vengeance. Riley, Drew, Brandon, and Mia believe the CEO of StratCast orchestrated their parents' murder twenty years ago to steal their father's software program. And there's only one way Riley can find some solid evidence...

Heir to the StratCast legacy, Ellie Stratton hires a new attorney to handle a delicate business matter—and she's shocked by her attraction to him. Over the course of a few weeks, Riley becomes her lover, her friend, her everything. But when her life is threatened, Ellie discovers that Riley is more obsessed with settling an old score than in the love she thought they were building. And Riley must choose between a revenge he's prepared for all his life and the woman he's sure he can't live without...
This was my first time reading a book by Lexi Blake and it definitely won't be the last. I thought Ruthless was only going to be about revenge, but no, it's so much more than that; it's about a family wanting justice and two people finding happiness.
Ruthless starts off with four kids losing their parents to a fire. One of the kids, Riley, overhears two policeman talking about how the dad wanted to burn everyone in the house and how the kids might be separated once the social worker gets there. Being a twelve year old, Riley couldn't believe it so he tells his big brother Drew. Drew lets Riley know that everything will be okay and that they'll have there vengeance once their older.
The kids are now older and the first step to their revenge is Ellie Stratton since her father already died they want to take it out on her company; they plan on making sure her company goes down. What the Lawless siblings don't know is that Ellie knows her dad was a monster and she has a plan of her own. DUN DUN DUN.
When Ellie and Riley meet instant attraction happens and when they go on a date fireworks explode. As a reader I knew Riley and Ellie were going to suffer first before they had their happily ever after and that's exactly what happens. Lexi Blake took my emotions through the gutter and I enjoyed every moment of it.
I liked everything about this book especially The Lawless siblings; they each have their own quirk and they love each other so much and because of their close relationship they would do anything to make sure justice is served accordingly.
Ruthless left me craving more and I can't wait to see what Lexi Blake does in the next book Satisfaction.