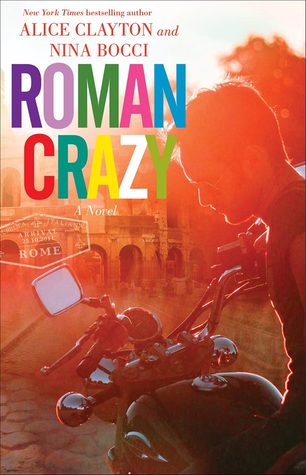 Title: Roman Crazy
Series: The Broads Abroad #1
Author: Nina Bocci & Alice Clayton
Publication Date: September 13, 2016
Publisher: Gallery Books
Source: Publisher for an honest review
Format: e-ARC
Age Group: NA
Genre: Contemporary Romance
Avery Bardot steps off the plane in Rome, looking for a fresh start. She's left behind a soon-to-be ex-husband in Boston and plans to spend the summer with her best friend Daisy, licking her wounds—and perhaps a gelato or two. But when her American-expat friend throws her a welcome party on her first night, Avery's thrown for a loop when she sees a man she never thought she'd see again: Italian architect Marcello Bianchi.

Marcello was the man—the one who got away. And now her past is colliding with her present, a present where she should be mourning the loss of her marriage and—hey, that fettuccine is delicious! And so is Marcello…

Slipping easily into the good life of summertime in Rome, Avery spends her days exploring a city that makes art historians swoon, and her nights swooning over her unexpected what was old is new again romance. It's heady, it's fevered, it's wanton, and it's crazy. But could this really be her new life? Or is it just a temporary reprieve before returning to the land of twin-set cardigans and crustless sandwiches?




A celebration of great friendship, passionate romance, and wonderful food, Roman Crazy is a lighthearted story of second chances and living life to the fullest.
Could this book have been anymore swoony? Seriously though, it gave me so many feels with butterflies and all! Oh, and I can please get a ticket to Italy, like NOW?! I am a happily married woman, but if I wasn't, I would be buying my plane ticket right now in search of my very own Marcello!
Have you ever had butterflies in your stomach while reading a book? I mean, you know, when a swoon worthy moment came up and you get all flustered and you find yourself saying "awwwwww" out loud? Yeah, there are a lot of those moments in Roman Crazy and I loved every minute of it!
Second chance romances are the best, and honestly, my favorite, because a lot of us all think about the one(s) that got away and the "what ifs." This story is how all second change romances should go and it had me a warm and fuzzy inside. I also adored Marcello and Avery together. I love how Nina and Alice gave us so many details about Italy that it made me feel like I was really there.
I loved every minute of Roman Crazy. It was funny, sweet and oh so romantic! If you love a great second-chance romance story, I strongly suggest you pick up Roman Crazy! I promise you will love it just as much as I do!