Welcome to our tour stop for Midnight Star by Marie Lu hosted by Penguin Teen. We absolutely adore Marie Lu here on Owl Always Be Reading and can't wait to share with you Chayse's review on The Midnight Star!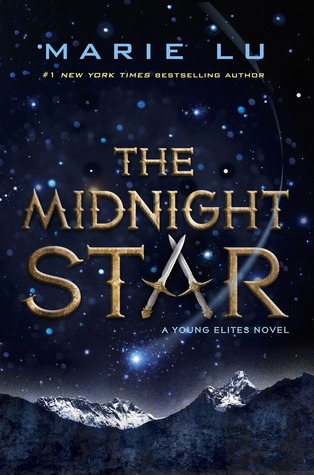 Title: The Midnight Star
Series: The Young Elites #3
Author: Marie Lu
Publication Date: October 11, 2016
Publisher: Penguin Teen
Format: Paperback ARC
Source: Publisher for an honest review
Age Group: Young Adult
Genre: Fantasy
The thrilling finale to the New York Times bestselling Young Elites series from "hit factory" Marie Lu.

There was once a time when darkness shrouded the world, and the darkness had a queen.

Adelina Amouteru is done suffering. She's turned her back on those who have betrayed her and achieved the ultimate revenge: victory. Her reign as the White Wolf has been a triumphant one, but with each conquest her cruelty only grows. The darkness within her has begun to spiral out of control, threatening to destroy all that she's achieved.

Adelina's forced to revisit old wounds when a new danger appears, putting not only Adelina at risk, but every Elite and the very world they live in. In order to save herself and preserve her empire, Adelina and her Roses must join the Daggers on a perilous quest—though this uneasy alliance may prove to be the real danger.

Bestselling author Marie Lu concludes Adelina's story with this haunting and hypnotizing final installment to the Young Elites series.
The final installment of The Young Elites installment is in my hands people. You have no idea how long I have been waiting for this book. Marie Lu stole my heart with her first trilogy Legend and now she has struck home again with her Elites.

In the final installment, we are still getting the different point of views, which for me brings so much more to the story, With Adelina growing more powerful with every conquest, the darkness that forms not only inside of her but the world grows and soon she must resist her past and put all differences aside and work with the people who turned her away. Not only is her life on the line, the Elites, but the whole world in which they live in.

Adelina has come so far from being the person who the world was disgusted with to a person the world feared. Marie Lu has really taken a different, darker path with Adelina and has succumbed to her power and the darkness. This is not the girl who Violetta would call "Mi Adenina"


Violetta has to be one of my favorite characters in this trilogy. She has a kept a secret growing up and now separating herself from her sisters rage and reuniting with the daggers, her life is about to take a turn and there is only one person who has the power to change the tide.
I was so happy at first for one character to have come back but then my judgement changed. The person I had fallen in love with was not the person I was seeing anymore. There was a darkness, a lost, and a boy that cheated fate. He had no control and even though it was hard losing him again for the second time, it was meant to be.
The story flowed and I was waiting for the Marie Lu touch of pulling my emotion and just when I thought, that maybe, just maybe she would not do anything, the world ended for me and the tears came.
In the end. Marie Lu delivers yet another stunning and heart wrenching end to a trilogy I have given a piece of my heart to each of the characters. If you have not read this trilogy or anything by Marie Lu please, please, please go read. And just remember...
I write young adult novels, and have a special love for dystopian books. Ironically, I was born in 1984. Before becoming a full-time writer, I was an Art Director at a video game company. Now I shuffle around at home and talk to myself a lot. :) I graduated from the University of Southern California in '06 and currently live in LA, where I spend my time stuck in freeways.
Week One:
Monday, 9/26: Expresso Reads (Series Sensory Associations)
Monday, 9/26: Ensconced in Lit (TYE "What Makes a Villain" Discussion)
Tuesday, 9/27: Myriad Inklings (Review/Book Playlist)
Tuesday, 9/27: Two Chicks on Books (Top 5 Reasons to Read TYE)
Wednesday, 9/28: Mike the Fanboy (Villains/Anti-Heroes in Pop Culture List)
Thursday, 9/29: Reading Teen (Guest Post)
Thursday, 9/29: The Starry-Eyed Revue (Midnight Star Look Book)
Friday, 9/30: Bibliophile Gathering (Review)
Friday, 9/30: Brittany's Book Rambles (Favorite Quotes)
Week Two:
Monday, 10/3: Once Upon a Twilight (Guest Post)
Tuesday, 10/4: Twirling Pages (Favorite Quotes/Mood Board)
Tuesday, 10/4: Arctic Books (Review + Favorite Quotes)
Wednesday, 10/5: Folded Pages Distillery (Review + Instagram)
Wednesday, 10/5: Fiktshun (Review)
Thursday, 10/6: The Book Nut (Review + Mood Board)
Thursday, 10/6: Bookiemoji (Top 5 Reasons to Read TYE)
Friday, 10/7: Mundie Moms (Review + Favorite Quotes)
Week Three:
Monday, 10/10: The Fandom (Review + Favorite Quotes)
Tuesday, 10/11: Forever young Adult (Guest Post)
Wednesday, 10/12: Owl Always Be Reading (Review + Quotes)
Wednesday, 10/12: Buttermybooks (Favorite Morally Ambiguous Characters)
Thursday, 10/13: IceyBooks (Quote Candy)
Friday, 10/14: Dark Faerie Tales (Guest Post)
Friday, 10/14: A Page with a View (Favorite Fanart)
Week Four:
Monday, 10/17: The Book Shire (Review + Favorite Quotes)
Monday, 10/17: Seeing Double in Neverland (Review)
Tuesday, 10/18: What Sarah Read (Guest Post)
Wednesday, 10/19: Adventures of a Book Junkie (Top 5 Reasons to Read TYE)
Wednesday, 10/19: YA Bibliophile (Review + Favorite Quotes)
Thursday, 10/20: Eater of Books! (Swoon Thursday)
Friday, 10/21: My My Shelf and I (Bookish Scents)
Friday, 10/21: Oh the Book Feels (Review + Favorite Quotes)