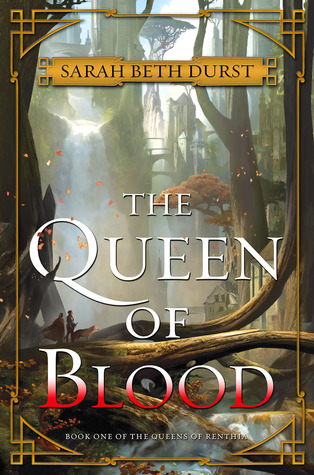 Title: The Queen of Blood
Author: Sarah Beth Durst
Publication Date: September 20, 2016
Publisher: Harper Voyager
Pages: 368
Source: Publisher
Format: Hardback
Age Group: Adult
Genre: Fantasy
Filled with political intrigue, violent magic, and malevolent spirits, Sarah Beth Durst's mesmerizing entry into adult fantasy is sure to capture the imaginations of anyone who reads it. Everything has a spirit: the willow tree with leaves that kiss the pond, the stream that feeds the river, the wind that exhales fresh snow… But these are not sweet, frolicking nature sprites. The spirits that reside within this land want to kill all humans. Only a few women have the power to command and control the spirits. These women become queens—or die trying. Without a queen, humans will die at the hands and teeth of hostile spirits. But with an unstable queen, no one and nothing is safe. Born during the reign of a paranoid and bloodthirsty queen, Daleina is determined to become queen and right the wrongs in her land. Ven is a disgraced champion, a man whose life has been destroyed by the queen. Hating her cruelty, he wants to replace her with a queen of his own. He chooses an overlooked student at one of the academies: Daleina. Together, they must find the strength and skill to stand against both enemies and friends, before their beloved land is bathed in blood.
Don't trust the fire, for it will burn you.
Don't trust the ice, for it will freeze you.
Don't trust the water, for it will drown you.
Don't trust the air, for it will choke you.
Don't trust the earth, for it will bury you.
Don't trust the trees, for they will rip you,
rend you, tear you, kill you dead.


I cannot wait for the second book. I really didn't think I would enjoy this one as much as I did. It was really interesting to see how much the author incorporated nature in this world. Because everyone lives in trees. Honestly, I wouldn't mind living in this world either. Someone posted a picture that I think sums it up just about right. So here, too, is what I pictured while reading this story.
And what I enjoyed even more is that the action immediately gets going.
We start with Daleina, a protagonist who is not altogether perfect. She's got flaws. But she is still aspiring to the highest seat of the land. And the highest seat of the land is Queen of Aratay. And in order to be Queen, a person must go through rigorous training and must master the spirits. Spirits live alongside nature and they are rebellious and indignant and almost human-like. The spirits are the main focus of the lullaby quoted at the beginning of this review. They are not nice and in fact, their goal is to bring down the humans among them. The Queen is supposed to protect her people from violent spirit attacks, but somehow, that isn't what is happening. Daleina knows very well what it means to be surrounded by death and sorrow and it lights a fire inside of her.

So in order to train, she goes to an academy dedicated to readying future heirs to the throne. The female friendships and connections she makes at this school was one of my favorite parts. And you also get to see what Daleina is capable of. I really appreciated the limitations displayed by her. Daleina is not the best, or the strongest, yet she still harbors an amazing conviction. And based on the synopsis, it's easy to think that Ven will be her love interest. But he isn't, although there is a little bit of romance and is not at all the main focus of the book. Ven is a "disgraced champion." Champions are tasked with training the "heirs" to the throne. And he is the best of the best. Until he encountered his own drama and fall from grace. But he is back and ready to train Daleina.
This is truly a fantastical world you won't want to put down. This was also so well written that I had an easy time getting through it in a couple of hours. And I have a feeling that the second book may include one of my favorite characters from this book. At least I hope so and am counting on it. Either way, I'm excited and eagerly anticipating the second installment.
Sarah Beth Durst is the author of ten fantasy novels for adults, teens, and children, including THE LOST, VESSEL, and THE GIRL WHO COULD NOT DREAM. She was awarded the 2013 Mythopoeic Fantasy Award and has been a finalist for SFWA's Andre Norton Award three times. She is a graduate of Princeton University, where she spent four years studying English, writing about dragons, and wondering what the campus gargoyles would say if they coul
d talk. Sarah lives in Stony Brook, New York, with her husband and children. Visit her atwww.sarahbethdurst.com.




LOOK AT THE GORGEOUS TIARA!
Week 1:
Week 2: