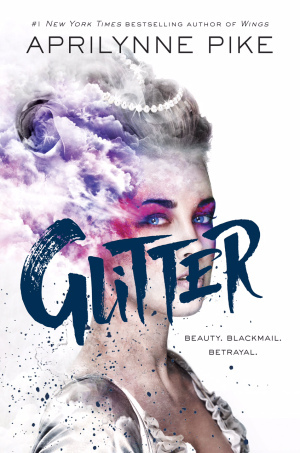 Title: Glitter
Author: Aprilynne Pike
Publication Date: October 26, 2016
Publisher: Random House Books for Young Readers
Pages: 384
Source: Publisher
Format: eARC
Age Group: Young Adult
Genre: Historical Fiction
Outside the palace of Versailles, it's modern day. Inside, the people dress, eat, and act like it's the eighteenth century—with the added bonus of technology to make court life lavish, privileged, and frivolous. The palace has every indulgence, but for one pretty young thing, it's about to become a very beautiful prison.
When Danica witnesses an act of murder by the young king, her mother makes a cruel power play . . . blackmailing the king into making Dani his queen. When she turns eighteen, Dani will marry the most ruthless and dangerous man of the court. She has six months to escape her terrifying destiny. Six months to raise enough money to disappear into the real world beyond the palace gates.
Her ticket out? Glitter. A drug so powerful that a tiny pinch mixed into a pot of rouge or lip gloss can make the wearer hopelessly addicted. Addicted to a drug Dani can sell for more money than she ever dreamed.
But in Versailles, secrets are impossible to keep. And the most dangerous secret—falling for a drug dealer outside the palace walls—is one risk she has to take.
Before I start my review I want to let you guys know something . . . I jumped for joy when I received the earc of Glitter mainly because my physical arc copy was stolen, this was the first time something like this happened to me and I just want to thank Random House for sending me the widget so that I may read this book. THANK YOU THANK YOU THANK YOU!

When I started reading Glitter I didn't know what to expect. I knew the book would have a theme like Breaking Bad and; I honestly didn't think it would mesh well with palace life but I was pleasantly surprised with how Aprilynee Pike made it all work.

I'm a sucker for stories involving arranged marriages where the girl is trying to find a way to escape her impending doom so Glitter made my heart all happy when Danica tries her hardest to flee. Danica was a character that

I also liked how Aprilynne Pike created a place where certain people still talked and acted like they were from the 18th century; I would not mind joining them and wearing those gowns

For some reason I thought Glitter would be a standalone and the more I read the more I hoped that this book would have a sequel. I was getting impatient because so much was left unsolved while I was reading. I wanted to know more about this crazy world and imagine my surprise when I read the last sentence; that last sentence changed the game and I can't wait for the sequel.