Top Ten Tuesdays (TTT) is a weekly event hosted by The Broke and the Bookish. This week's TTT is: scary books, favorite horror novels, non-scary books to get you in the Halloween/fall mood, bookish Halloween costumes, scariest covers), scary books on my TBR, etc.
Favorite "Get me in the Halloween Mood" Movie:
Seriously, I definitely cannot think about Halloween without thinking about this classic favorite! I'm old enough that I'm pretty sure I saw it premiere on the Disney Channel. Since I've lived in Florida practically my entire life, I never really got to experience the fall like the one shown in the movie. I always wished for colorful leaves falling on the ground, having to wear cool-weather clothing, and getting to trick-or-treat in amazing Victorian-looking neighborhoods. And I might have had a slight crush on Max Dennison. And who can forget Dani, who was the coolest kids with awesome lines like "Max likes your yabbos. In fact, he loves them" and the classic "a virgin lit the candle."
Favorite Scary/Horror/Dark Books
:
Kicking it old school, yet again!
These books, in my opinion, will never go out of style. They were just really well written, with short and right-to-the-point plots, and fun characters with a precise mixture of both mystery/suspense and romance. After going back to re-read some of these, I noticed how YA has definitely changed because their page counts don't even go past the 200 mark. If you haven't read a lot of these older books (published in the 80's and 90's), please do yourself a favor and get them! You can find cheap used ones on Amazon or at any local independent bookstores.
Favorite Halloween Co
stume
:
This isn't quite a bookish Halloween costume because I'm definitely a visual person, so I'm going to cheat a little but my favorite Halloween costume of all time is the shower that Daniel LaRusso wore to his school's dance in The Karate Kid. If you recall, he did it on purpose because he was hiding out from Johnny and the rest of the Cobra Kai gang. I still want to be this for Halloween someday and lucky for me, I found out that they actually sell this thing! I invite you to google it.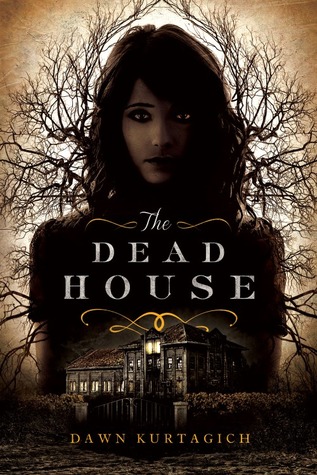 Scariest Book on my TBR: Ana, Owl and founder of this blog, highly recommended this read to me and I've since put it on my TBR list. We actually met Dawn Kurtagich at the American Library Association (ALA) conference this summer and she was so lovely, it's hard to imagine that this one was written by her. So here's a little synopsis,
Two decades have passed since an inferno swept through Elmbridge High, claiming the lives of three teenagers and causing one student, Carly Johnson, to disappear. The main suspect: Kaitlyn, "the girl of nowhere."

Kaitlyn's diary, discovered in the ruins of Elmbridge High, reveals the thoughts of a disturbed mind. Its charred pages tell a sinister version of events that took place that tragic night, and the girl of nowhere is caught in the center of it all. But many claim Kaitlyn doesn't exist, and in a way, she doesn't - because she is the alter ego of Carly Johnson.

Carly gets the day. Kaitlyn has the night. It's during the night that a mystery surrounding the Dead House unravels and a dark, twisted magic ruins the lives of each student that dares touch it.

Debut author Dawn Kurtagich masterfully weaves together a thrilling and terrifying story using psychiatric reports, witness testimonials, video footage, and the discovered diary - and as the mystery grows, the horrifying truth about what happened that night unfolds.
Top Picks for Illustrated Halloween Books: If any of you out there have small children, these would be my top choices. They look absolutely adorable and the illustrations are so perfect.
Top Pick for Middle Grade Halloween Book: This looks like such an interesting book for the 8-12 age range and would definitely be my top pick for this year. Here is the synopsis:
Halloween is just around the corner, and Stellamar is buzzing with even more ghostly activity than usual! The fun begins when Sara and Lily unwittingly release the ghost of a young boy who was locked away in a closet a long time ago. The little ghost is full of mischief, but for some reason Sara is completely powerless over him. What makes this ghost so special?
And Sara's not the only one with ghosts on her mind....Jayden Mendes, her crush from school, shows up at her house for a reading with Lady Azura. When the reading reveals secrets about the ghostly presence by Jayden's side, Sara realizes she might be in over her head with Jayden….
Meanwhile, Lady Azura has been urging Sara to learn to put up boundaries between herself and these spirits. But Sara's boundaries are put to the ultimate test on Halloween Eve during a huge party at her house, where ghostly visitors and real-life classmates collide!
Top Arts and Crafts Book for Halloween: I don't know about y'all but every year I love picking up one or two arts and crafts book for the holidays. Okay, I know, we have pinterest and a million other websites out there but it's nice to hold a physical book in your hand and be able to take it to your friends house and crowd around the instructions and diagrams. Felt-o-ween by Kathy Sheldon and Amanda Carestio is my top pick for Halloween this year.
Favorite Horror Novel: This seems like such an obvious choice but there's definitely a reason why Stephen King has been hailed as the #1 author when it comes to horror. This book is so creepy and so fantastic! The art of Stephen King's writing comes from the narrative and slow-burning details. This one is definitely a re-read for me just like The Stand (my favorite of all time).
Top Book Picks to get me in the Mood for Fall: With fall comes football season and with football season, I can't help but want to dive into Abbi Glines's The Field Party series. If you haven't read these, I highly suggest you do and aren't these covers absolutely gorgeous?! The third book of the series, After the Game, is set to publish on August 22, 2017. Books #1 and #2 are already out for you to enjoy.
Last Halloween-Themed Book I Want to Read: The story behind this book is extremely interesting. Turns out the author shares the same last name with the protagonist of this book -- as both are direct descendants of Cotton Mather, who is a historical figure associated with the Salem witch trials, along with very notable accomplishments. Adriana Mather is also a debut author and I love spotlighting debuts as they need a little bit more TLC in order to get the word out. It seems like the perfect read to pick up during the month of October if you're looking for a witchy read.