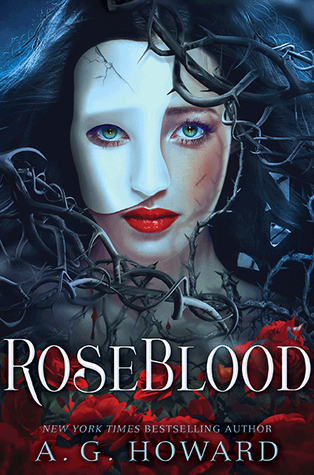 Title: RoseBlood
Author: A.G. Howard
Publication Date: January 10, 2017
Publisher:Amulet Books
Source: Publisher
Format: ARC
Age Group: Young Adult
Genre: Retelling
In this modern day spin on Leroux's gothic tale of unrequited love turned to madness, seventeen-year-old Rune Germain has a mysterious affliction linked to her operatic talent, and a horrifying mistake she's trying to hide. Hoping creative direction will help her, Rune's mother sends her to a French arts conservatory for her senior year, located in an opera house rumored to have ties to The Phantom of the Opera.

At RoseBlood, Rune secretly befriends the masked Thorn—an elusive violinist who not only guides her musical transformation through dreams that seem more real than reality itself, but somehow knows who she is behind her own masks. As the two discover an otherworldly connection and a soul-deep romance blossoms, Thorn's dark agenda comes to light and he's forced to make a deadly choice: lead Rune to her destruction, or face the wrath of the phantom who has haunted the opera house for a century, and is the only father he's ever known.
As soon as I found out this retelling was about Phantom of the Opera I was sold. A.G. Howard has a hypnotic way of storytelling that keeps me coming back for more and more; this is one author who I'll support till the end of time and RoseBlood will leave you breathless from start to finish.
Rune is sent to an opera academy in Paris due to an incident that happened back home. You see when Rune sings it brings her pain afterwards and both Rune and her mom are hoping that while attending Roseblood she will learn how to control it. While at the academy, Rune makes some new friends and also learns more about herself and exactly why singing brings her pain.
Whenever a retelling is told, the author usually focuses on the main characters but in Roseblood the side characters are front and center too and I loved that we got plenty of scenes with Rune and her friends especially Sunny, I adore her.
I thought Roseblood would be told in just Rune's point of view so I was extremely happy when I first read a point of view from Thorn. Swoons. Thorn is a character with a past that will make you want to shower him with hugs and kisses.
I won't say as much about the Phantom but I will say that its best to forget everything you know about him. Oh and I will also tell you, there is a major twist that I did not see coming and it was such a shocker that I'm still like whoa this is insane
I love when you can tell that an author has done her research and Roseblood flows with knowledge that Anita found and it made this story even more unique. The research made such an impact on this story and that was one of the main reasons why I love this story so much because the secrets and facts were incredible.
Roseblood is definitely one of my favorite retellings ever, the way Anita wrote this story was magical and mysterious and creepy and amazing. Be sure to preorder your copy now so that on January 10th you'll be devouring this book just as I did.