Top Ten Tuesdays (TTT) is a weekly event hosted by The Broke and the Bookish.
This week's TTT is: Top Ten Books I'm Looking Forward To For The First Half Of 2017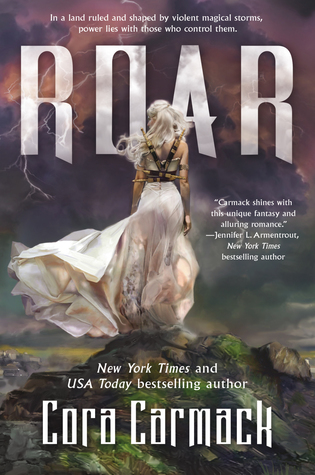 EXPECTED PUBLICATION DATE: June 13, 2017
PUBLISHER: Tor Teen
In a land ruled and shaped by violent magical storms, power lies with those who control them.
Aurora Pavan comes from one of the oldest Stormling families in existence. Long ago, the ungifted pledged fealty and service to her family in exchange for safe haven, and a kingdom was carved out from the wildlands and sustained by magic capable of repelling the world's deadliest foes. As the sole heir of Pavan, Aurora's been groomed to be the perfect queen. She's intelligent and brave and honorable. But she's yet to show any trace of the magic she'll need to protect her people.
To keep her secret and save her crown, Aurora's mother arranges for her to marry a dark and brooding Stormling prince from another kingdom. At first, the prince seems like the perfect solution to all her problems. He'll guarantee her spot as the next queen and be the champion her people need to remain safe. But the more secrets Aurora uncovers about him, the more a future with him frightens her. When she dons a disguise and sneaks out of the palace one night to spy on him, she stumbles upon a black market dealing in the very thing she lacks—storm magic. And the people selling it? They're not Stormlings. They're storm hunters.
Legend says that her ancestors first gained their magic by facing a storm and stealing part of its essence. And when a handsome young storm hunter reveals he was born without magic, but possesses it now, Aurora realizes there's a third option for her future besides ruin or marriage.
She might not have magic now, but she can steal it if she's brave enough.
Challenge a tempest. Survive it. And you become its master.
EXPECTED PUBLICATION DATE: March 28, 2017
PUBLISHER: Atria Books
From master storyteller Amy Hatvany—whose writing has been hailed as "gripping and emotionally honest" (Stephanie Evanovich, New York Times betselling author)—comes a provocative and compelling novel about two friends whose lives are changed by a drunken kiss.
I want to rewind the clock, take back the night when the world shattered. I want to erase everything that went wrong.
Amber Bryant and Tyler Hicks have been best friends since they were teenagers—trusting and depending on each other through some of the darkest periods of their young lives. And while Amber has always felt that their relationship is strictly platonic, Tyler has long harbored the secret desire that they might one day become more than friends.
Returning home for the summer after her college graduation, Amber begins spending more time with Tyler than she has in years. Despite the fact that Amber is engaged to her college sweetheart, a flirtation begins to grow between them. One night, fueled by alcohol and concerns about whether she's getting married too young, Amber kisses Tyler.
What happens next will change them forever.
In alternating points of view, It Happens All the Time examines the complexity of sexual dynamics between men and women and offers an incisive exploration of gender roles, expectations, and the ever-timely issue of consent.
EXPECTED PUBLICATION DATE: February 7, 2017
PUBLISHER: Ballantine Books

In this unforgettable novel for fans of One Day and The Time Traveler's Wife, a young Isaac Newton falls in love with a girl living in modern-day San Francisco, defying the laws of physics to forge a seemingly impossible connection.

Andrea Louviere is seven years old the first time he appears. While she's alone in her bedroom, practicing her beloved cello, the light shivers and a crack forms in the wall. Through the crack, she sees a candle, a window, a desk—and a boy. Though no sound travels through the wall, the boy clearly sees Andrea, too. And then, just as quickly as it opened, the crack closes, and he vanishes.

Over the years, summoning the bright, magnetic boy becomes something of an obsession for Andrea. Then, on her seventeenth birthday, she receives a three-hundred-year-old love letter from Isaac Newton. Andrea knows that Isaac will change the world with his groundbreaking discoveries; the letter tells Andrea that she will change him.

As Isaac's letters intensify in passion and intimacy, Andrea grows determined to follow his clues to their shared destiny—despite a burgeoning romance in the present. Only when she discovers the way into Isaac's time does Andrea realize that she faces a heartbreaking decision: between what was . . . and what might be.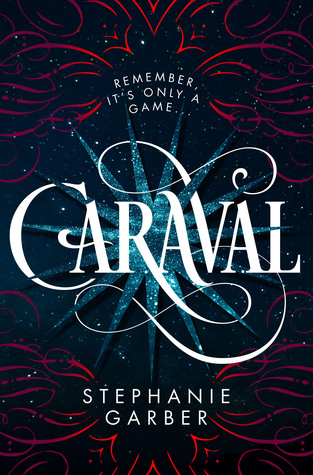 EXPECTED PUBLICATION DATE: January 31, 2017
PUBLISHER: Flatiron Books
Welcome, welcome to Caraval―Stephanie Garber's sweeping tale of two sisters who escape their ruthless father when they enter the dangerous intrigue of a legendary game.
Scarlett has never left the tiny island where she and her beloved sister, Tella, live with their powerful, and cruel, father. Now Scarlett's father has arranged a marriage for her, and Scarlett thinks her dreams of seeing Caraval, the far-away, once-a-year performance where the audience participates in the show, are over.
But this year, Scarlett's long-dreamt of invitation finally arrives. With the help of a mysterious sailor, Tella whisks Scarlett away to the show. Only, as soon as they arrive, Tella is kidnapped by Caraval's mastermind organizer, Legend. It turns out that this season's Caraval revolves around Tella, and whoever finds her first is the winner.
Scarlett has been told that everything that happens during Caraval is only an elaborate performance. But she nevertheless becomes enmeshed in a game of love, heartbreak, and magic with the other players in the game. And whether Caraval is real or not, she must find Tella before the five nights of the game are over, a dangerous domino effect of consequences is set off, and her sister disappears forever.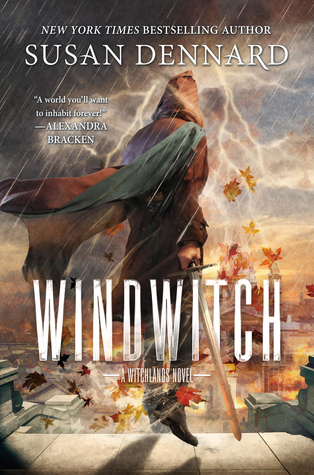 EXPECTED PUBLICATION DATE: January 10, 2017
PUBLISHER: Tor Teen
The follow-up to New York Times bestselling Truthwitch, next in a breathtaking YA fantasy series hailed by Alexandra Bracken as "a world you will want to inhabit forever."
On a continent ruled by three empires, some are born with a "witchery," a magical skill that sets them apart from others.
In this follow-up to New York Times bestselling Truthwitch, a shadow man haunts the Nubrevnan streets, leaving corpses in his wake—and then raising those corpses from the dead. Windwitch continues the tale of Merik—cunning privateer, prince, and windwitch.
EXPECTED PUBLICATION DATE: April 18, 2017
PUBLISHER: Simon Pulse


How do you go back to a life you can't remember? Find out in this follow up to the New York Times bestselling The Program and The Treatment.
Tatum Masterson never went through The Program. She never had her memory stripped, never had to fight to remain herself. But when Weston, her longtime boyfriend and love of her life, was taken by handlers, she hoped he'd remember her somehow—that their love would be strong enough.
It wasn't.
Like all returners, Weston came back a blank canvas. The years he and Tatum spent together were forgotten, as well as the week when he mysteriously disappeared before The Program came for him.
Regardless of his memory loss, Tatum fights to get Weston to remember her. And just as they start to build a new love, they hear about the Adjustment—a new therapy that implants memories from a donor. Despite the risks, Tatum and Weston agree to go through the process. Tatum donates her memories from their time together.
But the problem with memories is that they are all a matter of perspective. So although Weston can now remember dating Tatum, his emotions don't match the experiences. And this discrepancy is slowly starting to unravel him, worse than anything The Program could have done.
And as the truth of their life together becomes clear, Tatum will have to decide if she loves Weston enough to let him go, or to continue to live the lie they'd build together.
Prepare for your Adjustment.
EXPECTED PUBLICATION DATE: March 7, 2017
PUBLISHER: Flatiron Books

The Elegance of the Hedgehog meets The Perks of Being a Wallflowerin this novel celebrating being a little bit odd, finding your people, and the power of music across generations.

For Steffi, going to school every day is an exercise in survival. She's never fit in with any of the other groups at school, and she's viciously teased by the other girls in her class. The only way she can escape is through her music—especially jazz music.

When Steffi hears her favorite jazz song playing through an open window of a retirement home on her walk home from school, she decides to go in and introduce herself.

The old man playing her favorite song is Alvar. When Alvar was a teenager in World War II-era Sweden, he dreamt of being in a real jazz band. Then and now, Alvar's escape is music—especially jazz music.

Through their unconventional but powerful friendship, Steffi realizes that she won't always be lonely in her small town. She can go to the music school in Stockholm. She can be a real musician. And she can be a jitterbug, just like Alvar.

But how can Steffi convince her parents to let her go to Stockholm to audition? And how is it that Steffi's school, the retirement home, her music, and even her worst bully are somehow connected to Alvar and his story? Because as it turns out, everything is, in the end, linked . . .


A refugee of war, Mira was cast out of her home country and thrust into another, where the conditions were inhospitable at best. In a life-altering twist of fate, she is given the chance to escape once more, and she takes it, joining the Glittering Court.

Both a school and a business venture, the Glittering Court is designed to transform impoverished girls into upper-class ladies who appear destined for powerful and wealthy marriages in the New World. There, Mira finds herself subjected to persecution, not only from her fellow Glittering Court jewels, but from her suitors, as well—men she would potentially be expected to give her life to.

By day, she goes through the motions, learning the etiquette and customs that will help to earn her anonymity, even making a couple true friends in the process, the forthright ladies' maid Adelaide and the ambitious laundress Tamsin. But by night, Mira hatches a different plan entirely—one that, if exposed, could get her hanged in the highest court of Adoria.

MIDNIGHT JEWEL is the extraordinary story of a girl with few options who courageously forges a new path, finding love, passion, lifelong friendships, and maybe even a way to freedom.
EXPECTED PUBLICATION DATE: March 28, 2017
PUBLISHER: Little, Brown Books for Young Readers
Strange the Dreamer is the story of:
the aftermath of a war between gods and men
a mysterious city stripped of its name
a mythic hero with blood on his hands
a young librarian with a singular dream
a girl every bit as perilous as she is imperiled
alchemy and blood candy, nightmares and godspawn, moths and monsters, friendship and treachery, love and carnage.
Welcome to Weep.
EXPECTED PUBLICATION DATE: May 9, 2017
PUBLISHER: Blink/Harper Collins


Sixteen-year-old Tatum Elsea is bracing for the worst summer of her life. After being falsely accused of a crime, she's stuck under stepmother-imposed house arrest and her BFF's gone ghost. Tatum fills her newfound free time with community service by day and working at her covert graphic design business at night (which includes trading emails with a cute cello-playing client). When Tatum discovers she's not the only one in the house keeping secrets, she finds she has the chance to make amends with her family and friends. Equipped with a new perspective, and assisted by her feisty step-abuela-slash-fairy-godmother, Tatum is ready to start fresh and maybe even get her happy ending along the way.
A modern play on the Cinderella story arc, Christina June's IT STARTED WITH GOODBYE shows us that sometimes going after what you want means breaking the rules.
WHAT ARE YOU GUYS LOOKING FORWARD TO IN THE NEW YEAR?
PLEASE COMMENT AND LET US KNOW!