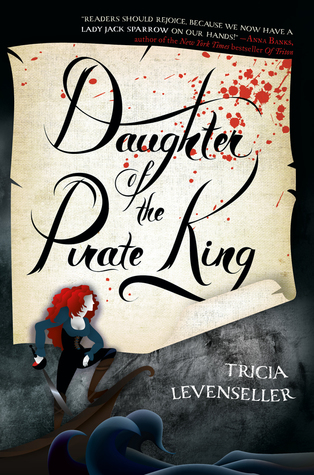 Title: Daughter of the Pirate King
Author: Tricia Levenseller
Publisher: Feiwel & Friends
Release Date: February 24th, 2017
Pages: 320
Format: Paperback ARC
Source: Gifted
Age Group: Young Adult
Genre: Fantasy
There will be plenty of time for me to beat him soundly once I've gotten what I came for.

Sent on a mission to retrieve an ancient hidden map—the key to a legendary treasure trove—seventeen-year-old pirate captain Alosa deliberately allows herself to be captured by her enemies, giving her the perfect opportunity to search their ship.

More than a match for the ruthless pirate crew, Alosa has only one thing standing between her and the map: her captor, the unexpectedly clever and unfairly attractive first mate, Riden. But not to worry, for Alosa has a few tricks up her sleeve, and no lone pirate can stop the Daughter of the Pirate King.
Daughter of the Pirate King is one of my favorite pirate books ever, truth be told it's like my second time reading a pirate book but still it's my favorite so far. It was funny and fast paced and I had been reading some intense books so this light read was definitely needed.
There are not enough words to describe how much I really loved the main character Alosa, she's like the side kick I would want to have in real life. Alosa is fierce, sassy, extremely loyal, and can fight her way through anything.
As you can tell from the title, Alosa father is the pirate king and he sends her on a mission to find a missing piece to a map that will take her father to basically a treasure island. Throughout the story, Alosa has to fake quite a few captures to make it look like she doesn't want to be there but in truth she does and every time she outsmarted them I was cheering her on.
Let me just mention that there's a twist and oh my god when I read it I was like "no way, no way omg omg omg" and that makes me super duper excited for the next book.
Also Riden and Alosa, I couldn't handle all the banter those two did, my heart was fluttering with those two and I just need everyone to read this book so we can all gush about pirates and what happened in the book.
The only complaint I have about Daughter of the Pirate King is that I wish it was 200 pages longer. Seriously once you start reading you are going to want way more, Tricia delivered an amazing story and I can't wait to see what happens next.