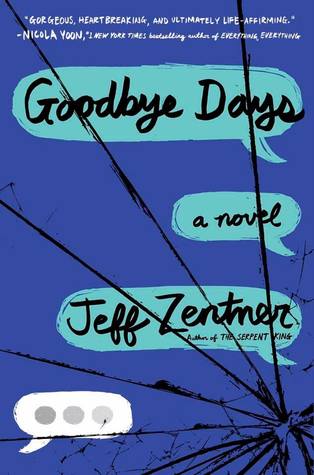 Title: Goodbye Days
Author: Jeff Zentner
Publisher: Crown Books for Young Readers
Release Date: March 7, 2017
Format: Paperback ARC
Source: ALA/Publisher
Age Group: Young Adult
Genre: Contemporary
Can a text message destroy your life?
Carver Briggs never thought a simple text would cause a fatal crash, killing his three best friends, Mars, Eli, and Blake. Now Carver can't stop blaming himself for the accident and even worse, there could be a criminal investigation into the deaths.
Then Blake's grandmother asks Carver to remember her grandson with a 'goodbye day' together. Carver has his misgivings, but he starts to help the families of his lost friends grieve with their own memorial days, along with Eli's bereaved girlfriend Jesmyn. But not everyone is willing to forgive. Carver's own despair and guilt threatens to pull him under into panic and anxiety as he faces punishment for his terrible mistake. Can the goodbye days really help?
Jeff Zentner stated (note: not verbatim) that this book was his love letter to the city of Nashville and I felt that ring true and through from the first page to the last. It made me want to visit the city as soon as possible and it also made me want to sit with him and pick his brain about this engaging, character-driven, emotionally-wrenching, and simply beautiful tale.
Carver Briggs. I mean, poor guy. He's been through the ringer and blames himself for the death of his three best friends. This story explores the dark and scary places our minds visit when dealing with grief and when mixed together with shame and guilt, well, it's a disastrous combination. So much in fact, that Carver begins to experience panic attacks.
The story is told in alternating scenes between past and present so the reader gets a great feel for what the deceased friends were like individually and their dynamic as the "Sauce Crew." It's part of the reason I started to build such strong emotional attachments to each (Eli, Blake, and Mars) and why I cared about Carver so much that I wanted to give him a big ole hug to comfort him like his newfound friend Jesmyn.
Speaking of guilt, Jesmyn just happens to be the "widow" girlfriend of Eli which complicates things a bit. But really, it's probably the criminal investigation prompted by Mars's dad -- who just happens to be a judge and overall menacing guy -- that ends up complicating Carver's life exponentially. What's a person to do when your life is in shambles and you don't know how you can possibly continue? That's right, therapy. The sessions with Dr. Mendez were some of my favorite and he was a great catalyst at bringing about the growth and change Carver undergoes as the story progresses.
And I probably should mention the "goodbye days" since it is the title of the book. This stems from an idea suggested by Blake's grandmother, Nana Betsy. I pictured her as a cute-as-a-button, darling old woman whose wrinkles certainly tell tales, probably the only one other than his parents who doesn't believe he's guilty, and the first to suggest to Carver that they should have a goodbye day to honor the memory of her grandson. It's not long before the other two sets of rents get wind of this and so Carver gets three extremely different and very interesting renditions of a "Goodbye Day."
A huge appeal for me was how raw and true the characters felt - including their blatant and ignorant racism (the adults) and insensitivity to members of the LGBTQ community (the Sauce Crew). Zentner didn't hold much back with these characters and that's why they felt authentic and unapologetic and seriously, like a huge breath of fresh air. Not once did I feel that their sentiments reflected those of the author and just the opposite, I gathered that it was part of their "southern" nature where the older generation garner certain types of prejudices which necessarily trickle down to the younger ones. It is obvious that Zentner really understands these people, a superb quality in an author.
One thing I did notice was that the book lacked funny moments. It's to be expected since the topic of death is clouded in seriousness, but it's exactly why I would have liked to laugh a little more. Maybe it would have given it a more balanced feel. I mean, it's no secret that Jeff Zentner is absolutely hilarious (if you follow him on social media). But now that I think about it, there was one scene in which one character reveals a secret about himself to another, and the tail end of their conversation had me cracking up.
But there is no doubt that I will be pondering the questions this book raises, and its characters, for some time to come. And that, my friends, is the mark of a great book! This one's been out for a week already so if you haven't grabbed your copy, I think its a good idea to consider this one your next (unforgettable) read.