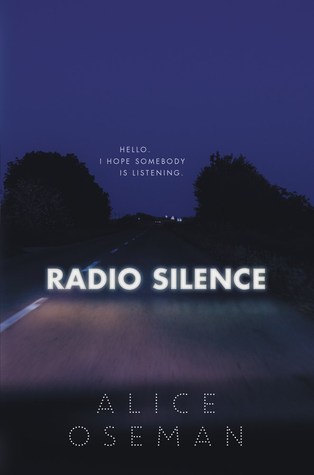 Title: Radio Silence
Author: Alice Oseman
Publisher: HarperTeen
Release Date: March 28, 2017
Format: Paperback ARC
Source: ALA/Publisher
Age Group: Young Adult
Genre: Contemporary
From critically acclaimed author Alice Oseman comes a smartly crafted contemporary YA novel, perfect for readers who love Rainbow Rowell's Fangirl. This is an utterly captivating and authentic new teen novel from the author of Solitaire, which VOYA said "could put her among the great young adult fiction authors." Frances Janvier spends most of her time studying. Everyone knows Aled Last as that quiet boy who gets straight As. You probably think that they are going to fall in love or something. Since he is a boy and she is a girl. They don't. They make a podcast. In a world determined to shut them up, knock them down, and set them on a cookie cutter life path, Frances and Aled struggle to find their voices over the course of one life-changing year. Will they have the courage to show everyone who they really are? Or will they be met with radio silence?
"Hello. I hope somebody is listening."
WOW! Seriously, wow. I did not expect to love this book as much as I did but I was blown away for several reasons. This book has already been out for a year in the UK and finally making its debut here in America on March 28. And I plead that you give this one a chance and you might just fall in love, just like I did. I'm super impressed by Alice Oseman, who is like Kody Keplinger, having her first book,
Solitaire
, released by the age of nineteen. It may be why she has such a strong voice, including very current references for the YA group.
So onto at least 5 reasons I adored this book because I can probably go on and on. My reviews are a little too long as it is so I'll spare you. :)
1. Aled Last and Francis Janvier do not fall in love.
This is not being told to you as some sort of "just kidding" bait-and-switch. No romantic relationship develops. Point blank. But this IS a love story and it's a story with tremendous heart. Our main player is Frances Janvier. A tight-lipped, seemingly boring, and competitive student by day. Super amazing and nerd extraordinaire by night with superior artistic abilities she's been exercising by drawing fan art for the show Universe City - her dirty little secret. But everything changes when the Creator, or Radio, asks her if she'd be willing to draw for the show. Universe City is a YouTube podcast show about "a suit-wearing student detective looking for a way to escape a sci-fi, monster-infested university." The Creator is anonymous and Frances almost loses her shit and we are off on a journey.
2. Is somebody listening?
This is the real heart of the story. Because from Frances, to Aled, to Daniel, to Carys, all of them just want to be heard and we really get the feel of the struggle it takes to show your true colors to a world that's full of hate, confusion, anger, and expectations that do not necessarily match up with your own. But the amazing part is that each character is fully explored, individual in their own right, and all had a very satisfying character arc. I loved them all and could have lived in their world for years and years beyond.
3. Sexuality.
Such a hot topic in the YA world, and rightly so. It's about time these voices become more mainstream than they were just a couple years ago. But this one really gets into the meat of the topic of love and what it means to truly desire someone else. The way it was explored was just about perfect and involves more than just one couple. It's also the first time I've ever seen the term
demisexual
** discussed in a novel.
4. Artistic compulsion versus academic pursuits.
Frances, like most people at the verge of graduating high school, doesn't know what the hell she wants from life in the long run. Is college a choice for everyone? Should it be? Are there other avenues to pursue and be just as happy? This is another major theme of this book and I'm so glad it paints a bright picture of futures that might not necessarily involve academia.
5. Unconventional parent types.
I liked that Frances and Aled have two very different sets of parents and it was nice to see a more laid-back approach to parenting explored in a YA novel. A parent that embraces their kid, and support them no matter what, versus the complete opposite. I don't want to give away much further than this but it does touch upon how screwed up or how well-adjusted we can go into the adult world given the circumstances of our home life.
Please, please, please consider reading this one because I might venture to say that it is officially made it to my top 5 reads this year - despite only being a quarter in. Oh, and even at 400+ pages, I devoured this one in a matter of hours it reads so well. I'm a fan and will definitely be reading anything Alice Oseman writes and am happy to say she's in the middle of writing her next one right now. And, if interested, I would suggest her YouTube videos where she talks about writing, music, and other interesting topics. This one hits book stands on March 28.
**
Urbandictionary.com defines it as "characterized by a lack of sexual attraction toward any person unless they become deeply emotionally or romantically connected with a specific person or persons."