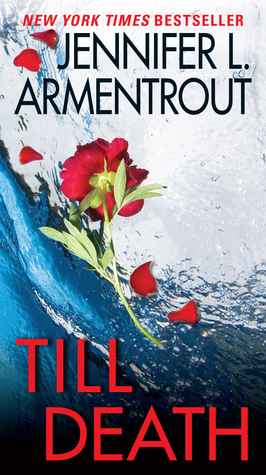 Title: Till Death
Author: Jennifer L. Armentrout
Publication Date: February 24, 2017
Publisher: William Morrow
Source: ALA
Format: Paperback
Age Group: New Adult
Genre: Murder Mystery
In New York Times bestselling author Jennifer L. Armentrout's gripping new novel, a young woman comes home to reclaim her life—even as a murderer plots to end it. . .

It's been ten years since Sasha Keaton left her West Virginia hometown . . . since she escaped the twisted serial killer known as the Groom. Returning to help run her family inn means being whole again, except for one missing piece. The piece that falls into place when Sasha's threatened—and FBI agent Cole Landis vows to protect her the way he couldn't a decade ago.

First one woman disappears; then another, and all the while, disturbing calling cards are left for the sole survivor of the Groom's reign of terror. Cole's never forgiven himself for not being there when Sasha was taken, but he intends to make up for it now . . . because under the quirky sexiness Cole first fell for is a steely strength that only makes him love Sasha more.

But someone is watching. Waiting. And Sasha's first mistake could be her last.
Another slam dunk for Jenn! Not only does she write amazing paranormal and romance novels, she is also a pretty damn good mystery writer as well. I have been a JLA fan for a long time and it has been a while since I read a new book by her, so when I picked up a copy of Till Death at ALA, I knew I was going to devour it as soon as I started it - and boy was I right! I just couldn't put it down. It was that good!
Mystery
:
I have always been intrigued, I guess that's the word, about serial killers and I absolutely love to read books about them. I hope that didn't scare you off. LOL I'm more intrigued by the way they think. How they show no empathy and how they blame the victim for what they do. I can tell that Jenn did her research with The Groom. This serial killer really creeped me out. Like for real.
For the first half of the book I had my suspicions on who the killer was and I was right. Although I like for mystery books to keep me guessing until the last minute, I still really enjoyed the mystery aspect of Till Death. There were still some gaps that I wasn't able to fill in, but everything came together at the end and it was pretty badass.
Romance:
Come on now, you all know Jenn is the master when it comes to swoony guys. I have yet to read one of her books that didn't make me swoon over the main MC and Cole Landis is no exception. I mean, he's a former cop, not FBI agent. Men in uniform are hot, in my opinion.
Overall, I really enjoyed Till Death. I would totally recommend it to anyone who loves a great mystery book.