Hello fellow owls! We want to share with you 3 amazing covers that were revealed this week. Check them out and make sure you add them to your Goodreads!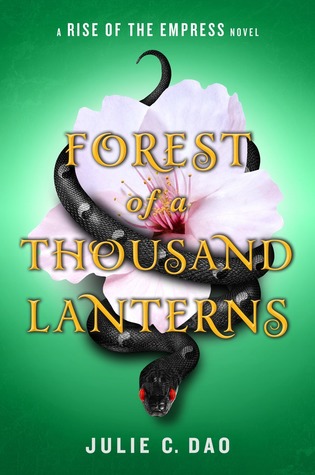 Title: Forest of a Thousand Lanterns (Rise of the Empress #1)
Author: Julie C. Dao
Publisher: Philomel Books
Publication Date: October 10, 2017
The Wrath and the Dawn meets Snow White and the Huntsman in this dark and mystical East Asian fantasy reimagining of The Evil Queen legend about one peasant girl's quest to become Empress--and the darkness she must unleash to achieve her destiny.

Eighteen-year-old Xifeng is beautiful. The stars say she is destined for greatness, that she is meant to be Empress of Feng Lu. But only if she embraces the darkness within her. Growing up as a peasant in a forgotten village on the edge of the map, Xifeng longs to fulfill the destiny promised to her by her cruel aunt, the witch Guma, who has read the cards and seen glimmers of Xifeng's majestic future. But is the price of the throne too high?

Because in order to achieve greatness, she must spurn the young man who loves her and exploit the callous magic that runs through her veins--sorcery fueled by eating the hearts of the recently killed. For the god who has sent her on this journey will not be satisfied until his power is absolute.

Set in an East Asian-inspired fantasy world filled with both breathtaking pain and beauty, Forest of a Thousand Lanterns possesses all the hallmarks of masterful fantasy: dazzling magic, heartbreaking romance, and a world that hangs in the balance. Fans of Heartless, Stealing Snow, and Red Queen will devour this stunning debut.
Title: A Semi-Definitive List of Worst Nightmares
Author: Krystal Sutherland
Publisher: G.P. Putnam's Sons Books for Young
Publication Date: September 5, 2017
From the author of Our Chemical Hearts comes the hilarious, reality-bending tale of two outsiders facing their greatest fears about life and love one debilitating phobia at a time.

Ever since Esther Solar's grandfather was cursed by Death, everyone in her family has been doomed to suffer one great fear in their lifetime. Esther's father is agoraphobic and hasn't left the basement in six years, her twin brother can t be in the dark without a light on, and her mother is terrified of bad luck.

The Solars are consumed by their fears and, according to the legend of the curse, destined to die from them.

Esther doesn't know what her great fear is yet (nor does she want to), a feat achieved by avoiding pretty much everything. Elevators, small spaces, and crowds are all off-limits. So are haircuts, spiders, dolls, mirrors and three dozen other phobias she keeps a record of in her semi-definitive list of worst nightmares.

Then Esther is pickpocketed by Jonah Smallwood, an old elementary school classmate. Along with her phone, money and a fruit roll-up she d been saving, Jonah also steals her list of fears. Despite the theft, Esther and Jonah become friends, and he sets a challenge for them: in an effort to break the curse that has crippled her family, they will meet every Sunday of senior year to work their way through the list, facing one terrifying fear at a time, including one that Esther hadn't counted on: love.
Title: A Map for Wrecked Girls
Author: Jessica Taylor
Publisher: Dial Books for Young Readers/Penguin
Publication Date: August 15, 2017
In this twisting tale of loyalty, betrayal, and romance, two sisters must survive the wilds, if they can first survive each other—for fans of Pretty Little Liars and Gone Girl.

"A masterfully written tale of survival, sisters, and love." —Julie Murphy, author of the #1 New York Times bestseller Dumplin'

We sat at the edge of the ocean—my sister Henri and I—inches apart but not touching at all.

We'd been so sure someone would find us by now.

Emma had always orbited Henri, her fierce, magnetic queen bee of an older sister, and the two had always been best friends. Until something happened that wrecked them.

I'd trusted Henri more than I'd trusted myself. Wherever she told me to go, I'd follow.

Then the unthinkable occurs—a watery nightmare off the dazzling coast. The girls wash up on shore, stranded. Their only companion is Alex, a troubled boy agonizing over his own secrets. Trapped in this gorgeous hell, Emma and Alex fall together as Emma and Henri fall catastrophically apart.

For the first time, I was afraid we'd die on this shore.

To find their way home, the sisters must find their way back to each other. But there's no map for this—or anything. Can they survive the unearthing of the past and the upheaval of the present?