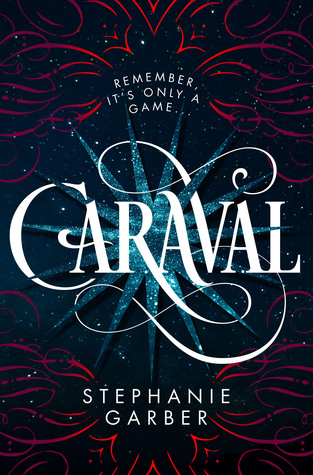 Title: Caraval (Caraval #1)
Author: Stephanie Garber
Publication Date: January 31, 2017
Publisher: Flatiron Books
Pages: 407
Source: Netgalley
Format: eARC
Age Group: YA (Young adult)
Genre: Fantasy
Whatever you've heard about Caraval, it doesn't compare to the reality. It's more than just a game or a performance. It's the closest you'll ever find to magic in this world . . .

Welcome, welcome to Caraval―Stephanie Garber's sweeping tale of two sisters who escape their ruthless father when they enter the dangerous intrigue of a legendary game.

Scarlett has never left the tiny island where she and her beloved sister, Tella, live with their powerful, and cruel, father. Now Scarlett's father has arranged a marriage for her, and Scarlett thinks her dreams of seeing Caraval, the far-away, once-a-year performance where the audience participates in the show, are over.

But this year, Scarlett's long-dreamt of invitation finally arrives. With the help of a mysterious sailor, Tella whisks Scarlett away to the show. Only, as soon as they arrive, Tella is kidnapped by Caraval's mastermind organizer, Legend. It turns out that this season's Caraval revolves around Tella, and whoever finds her first is the winner.

Scarlett has been told that everything that happens during Caraval is only an elaborate performance. But she nevertheless becomes enmeshed in a game of love, heartbreak, and magic with the other players in the game. And whether Caraval is real or not, she must find Tella before the five nights of the game are over, a dangerous domino effect of consequences is set off, and her sister disappears forever.
I have been on a YA fantasy slump for over a year now and this year I have read 2 fantasy books that have sparked my love for YA fantasy again, and Caraval is one of those books. I cannot tell you enough how much I love this book. From the very first page to the very last and "cryptic" sentence on the very last page, it has wowed me. Ilena, Katie and I all decided to buddy read it and we had a blast. It was so hard to wait for one another to catch upI found myself wanting to leave work early just so I could read. I'm telling you, it's been a long time since any book has grabbed my attention like that.
Oh let me tell you about the romance. I am not going to say who it's between, but OMG! I don't know how just one kiss can leave me swooning. I swear, Stephanie made me feel like a teenage girl all over again, remembering my first kiss. I can't tell you enough just how much I loved seeing these two interact with each other. I can't wait to hear more, hopefully, in the next book.
Now lets talk about all the craziness that went down in Caraval. No, I am not going to spoil anything for you, but I am going to say that everything isn't what it seems. The entire time I was trying to figure out who Legend was, but just when I thought I figured it out, BAM, that idea went out the window. I was just totally blown away by the way Stephanie twisted the reality of this world and made us all think one thing, and them to later find out we were all so wrong. LOL

If you want to read a book that will take you on a joyride, I suggest you read Caraval. I promise you won't regret it!