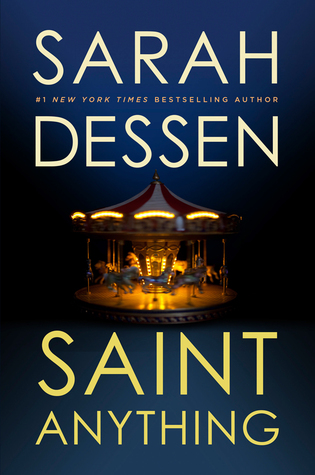 Title: Saint Anything
Author: Sarah Dessen
Publication Date: May 5, 2015
Publisher: Viking
Format: Paperback
Source: Previously Owned
Age Group: Young Adult
Genre: Contemporary
Peyton, Sydney's charismatic older brother, has always been the star of the family, receiving the lion's share of their parents' attention and—lately—concern. When Peyton's increasingly reckless behavior culminates in an accident, a drunk driving conviction, and a jail sentence, Sydney is cast adrift, searching for her place in the family and the world. When everyone else is so worried about Peyton, is she the only one concerned about the victim of the accident? Enter the Chathams, a warm, chaotic family who run a pizza parlor, play bluegrass on weekends, and pitch in to care for their mother, who has multiple sclerosis. Here Sydney experiences unquestioning acceptance. And here she meets Mac, gentle, watchful, and protective, who makes Sydney feel seen, really seen, for the first time. The uber-popular Sarah Dessen explores her signature themes of family, self-discovery, and change in her twelfth novel, sure to delight her legions of fans.
Like Sarah Dessen's other books, this one dealt with serious themes but of all, it's where I feel the main character goes through the most changes. Sydney is dealing with life the best way she knows how. Her brother has made very poor choices which have not only affected himself, but it's trickled down and out to all of the family members. It's also affected the relationships Sydney has with others to her old friends (when she leaves school to get away from the stigma) to her new friends, and even with the relationship she has with her mother and father.
I was also very much inspired by all the different relationships, including the thoughts of desolation Sydney has from being hurt and from carrying all the pain. But the great part about this book is when she meets the Chathams, who run a pizza parlor and are warm and loving - despite dealing with serious issues of their own - and who become the catalyst for the very much needed changes Sydney needs in her life. Oh, and Mac. I simply adored him!
I recommend this one for fans of the contemporary genre and if you've never read a Sarah Dessen book before, this one is making its way to the top of my favorites list!
So, one of the songs that kept popping in my head in the first half of the book was definitely Mad World by Gary Jules which is a melancholic but beautiful song. If you haven't heard it, I've included this link for your enjoyment! Happy reading.
As bubbly as champagne and delectable as wedding cake, Once and for All, Sarah Dessen's thirteenth novel, is set in the world of wedding planning, where crises are routine.




Louna, daughter of famed wedding planner Natalie Barrett, has seen every sort of wedding: on the beach, at historic mansions, in fancy hotels and clubs. Perhaps that's why she's cynical about happily-ever-after endings, especially since her own first love ended tragically. When Louna meets charming, happy-go-lucky serial dater Ambrose, she holds him at arm's length. But Ambrose isn't about to be discouraged, now that he's met the one girl he really wants. Sarah Dessen's many, many fans will adore her latest, a richly satisfying, enormously entertaining story that has everything—humor, romance, and an ending both happy and imperfect, just like life itself.
COMING JUNE 6, 2017!!
Sarah Dessen is the #1 New York Times bestselling author of over a dozen novels for teens, which have received numerous awards and rave reviews. Her books have been published in over thirty countries and have sold millions of copies worldwide. She is the recipient of the 2017 Margaret A. Edwards Award from the American Library Association for outstanding contribution to young adult literature for her novels: Keeping the Moon, Dreamland, This Lullaby, The Truth about Forever, Just Listen, Along for the Ride, and What Happened to Goodbye. Her newest novel, Once and for All, will be released in June 2017. An NC native, she currently lives in Chapel Hill with her family.
Enter for a chance to win one (1) set of Sarah Dessen's books in paperback (ARV: $132.00).
NO PURCHASE NECESSARY. Enter between 12:00 AM Eastern Time on April 17, 2017 and 12:00 AM on May 29, 2017. Open to residents of the fifty United States and the District of Columbia who are 13 and older. Winners will be selected at random on or about June 1, 2017. Odds of winning depend on number of eligible entries received. Void where prohibited or restricted by law.
A Rafflecopter Giveaway