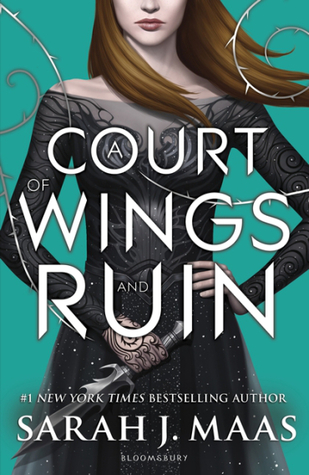 Title: A Court of Wings and Ruin
Series: A Court of Thorns and Roses #3
Author: Sarah J. Maas
Publication Date: May 2, 2017
Publisher: Bloomsbury Children's books
Pages: 699
Source: Bought
Format: Hardcover/e-Book
Age Group: New Adult
Genre: Fantasy
A nightmare, I'd told Tamlin. I was the nightmare.

Feyre has returned to the Spring Court, determined to gather information on Tamlin's maneuverings and the invading king threatening to bring Prythian to its knees. But to do so she must play a deadly game of deceit—and one slip may spell doom not only for Feyre, but for her world as well. As war bears down upon them all, Feyre must decide who to trust amongst the dazzling and lethal High Lords—and hunt for allies in unexpected places.
Love it! Love it! Love it! I love ACAWAR! What an amazing conclusion to this bad ass trilogy. I heard that they are going to do a spinoff, and after finishing reading ACAWAR, I can totally see the endless possibilities that Sarah has to give the other characters their HEAs. Because lets face it, we all want our Happily Ever Afters.
If you haven't read A Court of Thorn and Roses, aka ACOTAR, (book #1) and A Court of Mist and Fury, aka ACOMAF, (book #2), I suggest you do not continue reading my review as there will be spoilers, which are inevitable when reviewing book #3 in a series.
A Court of Wings and Ruin starts off right where A Court of Mist and Fury left off: Feyre goes back to the Spring Court with Tamlin and leaves Rys. But don't worry, she is only there to get intel and see what Tamlin is up to and to try to get the upper hand and to find out Tamlin's true intentions. After all the things that Tamlin did to Feyre, you can imagine how hard it must be for Feyre to be there. But like you already know, Feyre is tough and she will do anything for her family back in Velaris.
I want to take a minute and just talk about all the characters.
Feyre & Rhys: This girl is one badass MFer! I mean what she did to Tamlin? Geeeeze! And right from under his nose! Ha! Oh, and not to mention how she totally kicked ass at the end! Lets be honest, this girl kicked ass throughout the entire series. I just love her to pieces! Now Rhys. This man has taken my heart hostage and I don't think I could ever love another male character as much as I love him. He is the epitome of perfect. While read ACOWAR I highlighted so many quotes. There were so many that made my heart skip a beat. Here are a few:
"Is everyone all right? I waited, counting the minutes. Yes. As well as we can be. When do you come home to me?" (ACOWAR, Page. 44)
"And you are High Lady of the Night Court." "Indeed she is." My blood stopped at the voice that drawled from behind me. At the scent that hit me, awoke me. My friends began smiling. I turned. Rhysand leaned against the archway into the sitting room, arms crossed, wings nowhere to be seen, dressed in his usual immaculate black jacket and pants. And as those violet eyes met mine, as that familiar smile faded... My face crumpled. A small, broken noise cracked from me. Rhys was instantly moving, but my legs had already given out. The foyer carpet cushioned the impact as I sank to my knees. I covered my face with my hands while the past month crashed into me. Rhys knelt before me, knee to knee. Gently, he pulled my hands way from my face. Gently he took my cheeks in his hands and brushed away my tears. I didn't care that we had an audience as I lifted my head and beheld the joy and concern and love shining in those remarkable eyes. Neither did Rhys as he murmured, "My love," and kissed me. I'd no sooner slid my hands into his hair than he scooped me into his arms and stood in one smooth movement. I pulled my mouth from his, glancing toward a pallid Lucien, but Rhysand said to our companions without so much as looking at them, "Go find somewhere else to be for a while." (ACOWAR, Page 129)
"I missed you every moment,: Rhys said, leaning down to kiss the corner of my mouth. "Your smile. His lipsgrazed over the shell of my ear and my back arched slightly. "Your laugh." Your laugh." He pressed a kiss to my neck, right beneath my ear, and I tilted my head to give him access, biting down the urge to beg him to take more, to take faster as he murmured, "Your scent." (ACOWAR, Page 135)
Mor: There is a huge revelation towards the end of the book and I don't know how I feel about it. Not that I am against the revelation, but I am upset because of the person who it will hurt. My heart aches just thinking about it when he/she finds out. How was that for being vague? LOL
Elain & Azriel: No, they didn't actually hook up, but I am totally onboard for this romance! It's like they are meant to be together. Especially since he has been there for her and also let him use something that he has never let anyone else ever borrow. No, not that! Dirty minded people! LOL But honest, I am really shipping those two together! I really hope Sara gives us more of those two in her spinoff. Which by the way, I have no idea what or who it's about. LOL All I know is that it will be a spinoff series and that Feyre and Rhys wont be in it. *so sad*
Tamlin: Yeah, this one is kinda hard to talk about because I still don't know how I feel about him. It's kinda like running into an old boyfriend who you broke-up with years ago and feeling bad for them, but you hope and pray they got over you and have moved on with their life?? Does that make sense? LOL I mean, don't get me wrong, Tamlin pissed me off for what he did to Feyre, but I don't think he actually did it intentionally. He honestly just wanted to keep her there with him, safe. He was just oblivious to the fact that she was no longer in love with him and that it was actually just making her recent him. All I know is that he he kinda redeems himself at the end and my heart just hurts. I want him to find happiness.
Cassian & Nesta: I really need these two to get together like yesterday. I mean all the signs are there, we just need it to become official. LOL That's another couple that I think are meant to be together.
Amren: Wow, just wow. I was so NOT expecting any of that! And that is all I can say. LOL
Now lets talk about my poor Lucien. Gosh I feel for him. My sweet ginger who has always been there for Feyre. He has had such a messed up childhood and his parents are all kinds of screwed up. Especially his father. (cough cough). I want him to find happiness. I want him to find someone worthy just like he is.
It took me a long time to write this review because writing it would mean the end. The end of an incredible trilogy. Characters that I will forever cherish. Characters that have set the bar pretty damn high for other ones. Sarah, you have created my favorite fantasy series, EVER. Yes, EVER! Now I will go cry in the corner because writing this review has brought all the feels back.