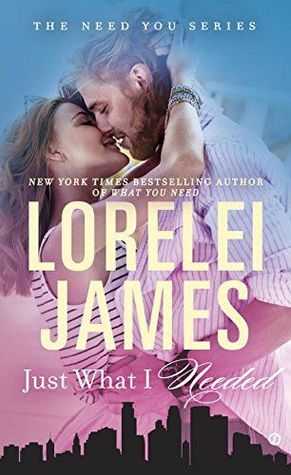 Title: Just What I Needed (Need You #2)
Author: Lorelei James
Publisher: Berkley Books
Release Date: August 2nd, 2016
Pages: 368
Format: Paperback
Source: Bought
Age Group: Adult
Genre: New Adult Romance
Trinity Carlson might be having the worst day ever. And that was before she started drinking in a dive bar, right across from her ex and his new girlfriend. So when she finally decides enough is enough, she grabs ahold of a hot, blond stranger and gives him the kiss of his life.

Walker Lund never expected that a chance at love would hit him right on the mouth. Since the moment his brother decided to settle down, Walker has been dodging his family's hopes that he'll do the same. He's never been interested in following in anyone's footsteps. But when he discovers his sexy assailant has given him a fake name and number he suddenly finds himself in the mood for a little hot pursuit...
I have to admit that I jumped into this series by starting with Walker and Trinity's story in Just What I Needed. The opening and meeting between Trinity and Walker was a setting for a good story. It was a definite meet-cute. I really appreciated that this story had a solid story with character development along the way. It wasn't just based on the relationship, or the sex, it was more so about Trinity and Walker as individuals as much as it was about them having a relationship.
I really loved Trinity. She seemed real to me in her ups and downs, her goals and her personality. I really enjoyed seeing her artistic aspect and it gave her character a real dimension. As far as Walker goes, I liked him but there were a few tropes about him that I didn't really enjoy seeing. However, I enjoyed seeing him grow through the story.
Trinity and Walker's love was sweet in the best way. It was sweet to see their love develop and grow. Their relationship seemed more real than others I've read. They went through real ups and downs. I loved seeing how they complimented each other and fit together so well.
A huge kudos to this series from me is that it's set in an area I'm very familiar with. I used to live where it's set, in Minneapolis and St. Paul mainly. It was really fun to see and read of places the characters were visiting or activities they were doing that was familiar to me.
_______________________________________________
Title: All You Need (Need You #3)
Author: Lorelei James
Publisher: Berkley Books
Release Date: April 4, 2017
Pages: 368
Format: Ebook
Source: Borrowed from the library
Age Group: Adult
Genre: New Adult Sports kind-of Romance (Axl is a hockey player)
PR agent Annika Lund can spin any disaster into a win. But revamping the reputation of a notorious Swedish hockey player will take every trick in her arsenal, especially when his agent insists that convincing everyone he's no longer a playboy is top priority. And that it requires a sham relationship - with Annika playing the part of loving girlfriend.

On fire in the rink and in the bedroom, Axl Hammerquist couldn't care less about being anyone's golden boy. So when his agent forces him to play nice with a new publicist, he takes satisfaction in being as much of a pain as possible. But the more time he spends getting to know Annika, the more Axl starts to think that being Mr. Nice Guy might be worth it if it gets him the girl...

I think I may have enjoyed Trinity and Walker's story too much that it set too high of expectations for Annika and Axl's story. Don't get me wrong, I enjoyed Annika and Axl's story but not as much as Trinity and Walker's. There were some aspects that fell a little flat for me in this installment of the series.
One of my favorite stories is hate-to-love relationships and Annika and Axl deliver this type of relationship well. The beginning was filled with fun banter, and clever nicknames they used to display their "hate" towards each other and it was fun to see that develop into feelings and on.
The characters is one aspect that did fall a little flat for me. I didn't connect well to Annika's character, I felt that she was mostly one dimensional as most of her revolved around her job. I wanted to know her more. There were snippets where we saw more of her outside of work and I loved those parts. While reading, I was wishing for more of those snippets. Axl's character was my favorite. It was great to see him develop, and see his layers peeled away as the story went on.
One of my favorite parts was seeing the different characteristics that Axl and Annika brought out in each other. It didn't feel forced and it didn't feel like they weren't being themselves. It has seemed more like they had brought out these good parts in each other that were often hiding.
Again, I'm loving the setting of this series as it's an area that I've lived in and familiar with. It's a bonus to the series for me. I've really enjoyed these two books in the series and I'm currently reading the latest book in the series Where I Need You, following Jensen. I'm loving it! (I think this may be my favorite book of the series so far!)